(1) 451. The Internet Engineering Steering Group has approved a new internet status code – 451, "An HTTP Status Code to Report Legal Obstacles."
It will be the protocol displayed when a user requests an illegal resource, such as a web page censored by a government. Obviously, the number is a reference to Ray Bradbury's Fahrenheit 451. The IESG approved it on December 18, 2015.
The Wikipedia says 451 could be called a more descriptive variant of 403 Forbidden.
Mark Nottingham predicts some governments will suppress the use of 451:
In some jurisdictions, I suspect that censorious governments will disallow the use of 451, to hide what they're doing. We can't stop that (of course), but if your government does that, it sends a strong message to you as a citizen about what their intent is. That's worth knowing about, I think.
(2) WHAT A DOLL. Debbie Ritter of UneekDollDesigns is selling a diminutive Ray Bradbury doll holding a tiny copy of Fahrenheit 451 for $51.00.
I created this collectible art figure in woolen tweed jacket, brown pants, shirt with tie, and black wired glasses. I hand painted the details of his face and, added real fiber hair, and a tiny "replica" of one of his best works too! Mr. Bradbury is a tiny 4 1/2 inches tall, (11.4 cm) and uniquely created out of wire, clay, fiber, and wood pattern free.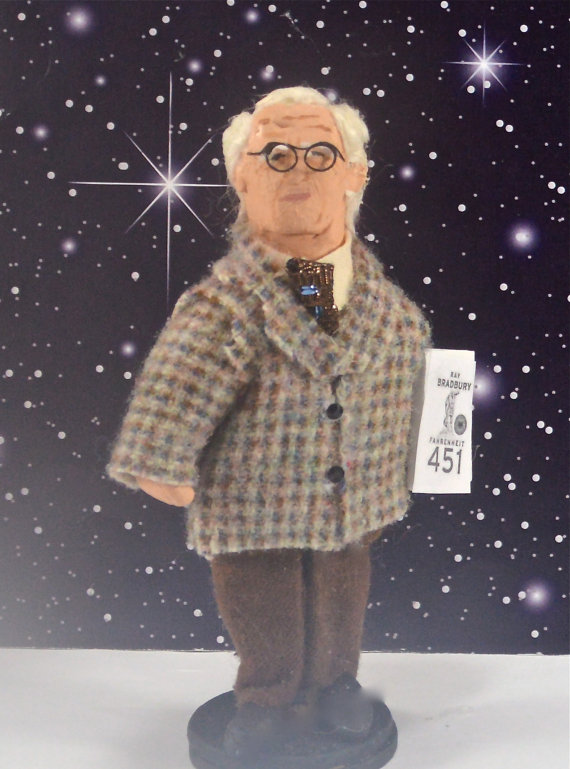 (3) BRACKETT AND BRADBURY. You'll find the history of "Brackett and Bradbury: 'Lorelei of the Red Mist'" at Adventures Fantastic.
This is a unique item.  The only collaboration between two great science fiction authors, Leigh Brackett and Ray Bradbury.  Here's how it came about:

Both authors were living in the Los Angeles area in the 1940s, and both had been working hard to develop their craft as writers.  Both were regulars in Planet Stories at the time.  They were friends who had both been mentored by Henry Kuttner.  They used to meet once a week to read and critique each other's work.