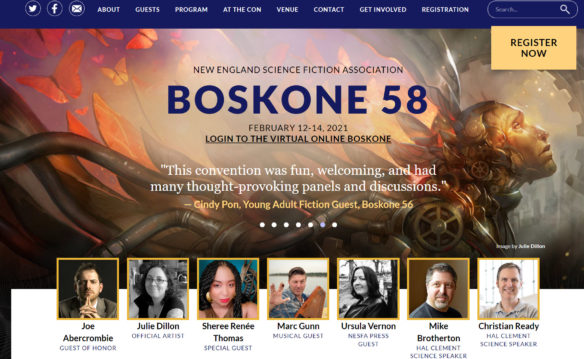 By Daniel Dern: Boskone 58 is coming soon — Friday, February 12 through Sunday, February 14, 2021. The Boskone 58 event site is located here on Grenadine. As I write this, there are about 190 program items/events and around 150 speakers listed.
The Guests of Honor (GoH's) are:
GUEST OF HONOR: Joe Abercrombie
SPECIAL GUEST: Sheree Renée Thomas
OFFICIAL ARTIST: Julie Dillon
MUSICAL GUEST: Marc Gunn
HAL CLEMENT SCIENCE SPEAKERS: Mike Brotherton & Christian Ready
NESFA PRESS GUEST: Ursula Vernon
Listed participants include a mix of familiar and new names/faces — including, I'm sure, many who might otherwise have been able to schedule/travel (in happier times) in person, including (to name just a few) Jeanne Cavelos, John Chu, Neil Clarke, Guy Consolmagno, C. S. E. Cooney, Bruce Coville, Ellen Datlow, Aliette de Bodard, Vincent Di Fate, S.B. Divya, Vince Docherty, Cory Doctorow, Sarah Beth Durst, Scott Edelman, Bob Eggleton, Greer Gilman, Nicole Givens Kurtz, Max Gladstone, Andrea Hairston, Carlos Hernandez, James Patrick Kelly, Marcin "Alqua" Klak, Mur Lafferty, Tabitha Lord, Kwame Mbalia, Larry Niven, Garth Nix, Suzanne Palmer, Tamora Pierce, Julia Rios, Charles Stross, Michael Swanwick, Carrie Vaughn, Fran Wilde, Connie Willis, and Jane Yolen.
Because of some of the interesting ways NESFA is doing this year's Boskone, I feel it's worth providing this pre-con report, including reasons to register before the last minute if you haven't already — and why it might be worth it even if you don't have much online time available during those days.
(Note, any "according to Boskone" or unattributed-in-text quotes are from the Boskone web site.)
AFFORDABLE! Like Arisia 2021 (see my File770 Arisia post-con report), this year's Boskone is, unsurprisingly, virtual-only — and full-weekend membership is, similarly, a modest $25.00.
Information like the program participants list and the program is publicly viewable — useful for deciding whether you want to "go."
Membership gives you access to "the entire event site and program, including panel recordings, the Con Suite (where parties will be held in Zoom breakout rooms), the internal messaging system for chatting, and our special embedded chat windows for program items, art show, dealers, and fan tables."
Boskone also lets you not buy a membership but still make a $5 (or multiples of) supporting contribution. You don't get any convention access, but, according to Boskone, "Your gift helps defray expenses such as converting to an online format, providing American Sign Language services, assistance with our New Voices Fund, memberships for those in need, and more."
KAFFEEKLATCH SIGNUPS! Kaffeeklatsch signups went live at noon EST Wednesday February 5, and while there's more "seats" than I've typically seen at live cons — twenty-two, versus ten-to-twelve — they're beginning to fill up. (I've already registered, and signed up for the ones I want to be at/in.) [Click for larger image.]
RECORDED PROGRAMMING. Unlike Arisia2021, Boskone will be recording all sessions that are done in the Zoom format. According to Boskone this will include "all panels, solo presentations, and other items that are held as a webinar. The only exception to this rule is if a program participant has asked not to be recorded.)…and there will be approximately 90 items recorded, with videos becoming available by the end of each day." Note, according to a Boskone committeeperson, kaffeeklatches will NOT be recorded.
Boskone intends to make videos available by the end of each day — and, importantly, "We are keeping the Boskone 58 event site up through the end of February 2021."
Given that I've currently flagged nearly three dozen program items as potentially interesting — and only two of those aren't conflicting with one or two other sessions (and none of those slots have more than one KaffeeKlatch that I've signed up for) — I could easily be belatedly Boskone-ing up for a fortnight post-Boskone! I do expect to winnow my selections down — but it's nice to not have to choose which one to go to — or regret choices because it sounds like the room next door is having more fun, or because I learn I missed a great discussion elsewhere.
If there aren't KaffeeKlatches you want to be at, you can wait until the last minute — and if you're OK with watching the recorded sessions, that's not necessarily late in the game. (The web site currently says that Memberships are "Available Until 14 Feb, 2021.")  [ NOTE, the registration page — and this article — had originally said "Until 15 February, 2021" but that has been updated, hence also my article.]
SUNDRY NOTES. Unlike Arisia 2021, which used a mix of web, Zoom and Discord, Boskone 58 is being  billed as a "single sign on event." (Arisia 2021, by contrast, used Discord for some of the chat.)
Boskone is using the Grenadine event platform — which they've been using for several years (as have several other cons I've gone to, including the Dublin 2019 WorldCon). (With one exception: game players will have to sign up for the Board Game Arena.)
Magic show! I'm looking forward to being in the audience for a change, for the "Starship Magic Show" a "50-minute SF themed magic show. Vulcan's Greatest Magician, S'kai, is presented by Dr. Willie Yee."
Convinced yet?
I'm of course sad that Mark and Priscilla Olson don't seem to be doing their "Trivia For Chocolate" evening game show (where I surprisingly often end up in the top half-dozen), but I can see how this would be tricky to run over Zoom — and even harder to throw the point-keeping chocolate Thin Mints at the correct-or-snarky answerers.)
Ditto, I'll miss schmoozing with friends F2F. On the other hand, no worries about weather, transit failures, hotel snafus, restaurant lines, or coffee not near ready in the Con Suite before the mornings' first panels.
(Plus, harder to get autographs.)
I'm looking for to being at Boskone 58 — some as it happens, the rest before the end of the month.