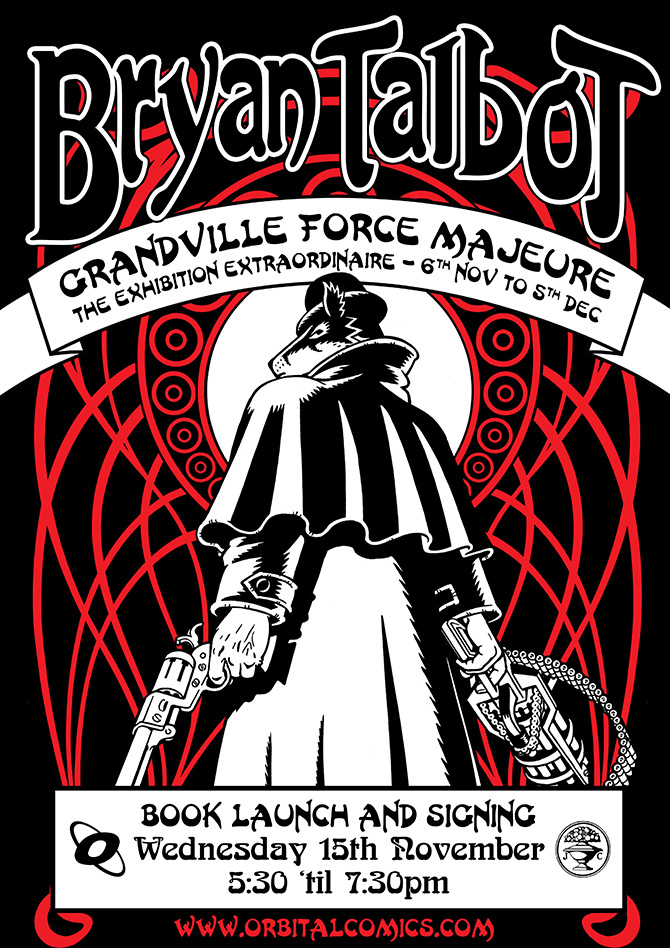 By James Bacon: I took the opportunity to visit the Grandville Art Exhibition at Orbital Comics, near to Leicester Square Tube Station, with fans Ian Stockdale and Andrea Carney. As Andrea commented a 'very cool place' and indeed, the shop is worthy of its Eisner Spirit of Comics Retailer accolade, which it won last year.
The shop itself holds considerable stock, new comics adorn the walls as one enters, collected editions are stacked, and as ever what sets a comic shop apart from its peers is the unusual Orbital Comics has an annex full of international and local works, small press from near and afar, while the back issues are substantial, and to ensure that every quarter of comics is represented, they have a delightful selection of second-hand stock. This combined with in house comic art and framed posters of previous events, gives one the feeling that this is a genuine place where comics are loved.
Another annex is where the exhibits are shown with regularity, and we were lucky to visit at the opening of the current show, Grandville Force Majeure, by Bryan Talbot.
Without doubt, one of the finest comics of the year is about to be released. The fifth story in the series by Bryan Talbot, is incredible. I first saw images shown by Bryan for Grandville at Eastercon in 2008, and I was immediately intrigued. Comic artist and writer Bryan Talbot had just come down from the huge wave of appreciation for his previous work, Alice in Sunderland, and yet here he was showing eager fans his next project.
An anthropomorphic steampunk story. I saw a badger in detective's clothing toting huge revolvers and in an obvious altered metropolitan setting of Paris and was excited. The official word was 'Two hundred years ago, Britain lost the Napoleonic War and fell under the thumb of French domination. Gaining independence after decades of civil disobedience and anarchist bombings, the Socialist Republic of Britain is now a small, unimportant backwater connected by a railway bridge, steam-powered dirigible, and mutual suspicion to France. When a British diplomat's murder is made to look like suicide, ferocious Detective-Inspector LeBrock of Scotland Yard stalks a ruthless murder squad through the heart of a Belle Epoque Paris, the center of the greatest empire in a world of steam-driven hansom cabs, automatons, and flying machines. LeBrock's relentless quest can lead only to death, truth . . . or war.'. When I saw that it was stated that on the cover that the story is 'Scientific Romance Thriller' I was impressed. It spoke to me.
Nine years later the fifth story in the Grandville Series by Bryan Talbot is about to be released and it is one of the finest comics of the year and is incredible. We are at a point where Bryan Talbot has clearly signalled that for us fans the series is now coming to an end. Each book is a beautiful edition and Grandville Force Majeure is a lovely finishing point for this fantastical intelligent alternative history series with anthropomorphic characters.
Bryan Talbot himself, as previously mentioned, is a regular at many science fiction events, a Guest of Honour at Loncon 3, he was an early member of the Tolkien Society who he provided illustrations to and did the very first cover for Dark Horizons, the fanzine of the British Weird Fantasy Society, which was a breakaway from the BSFA, and came to be The British Fantasy Society. I consider him to be a real supporter of many events, and a fine elegant speaker with vast knowledge of comics.
Grandville Force Majeure is longer than its predecessors and this adds depth and delightfully it has a spoiler-proof sealed section, to prevent eager readers unwittingly flicking through and destroying what is a wonderful story. One can assume there must be twists and turns, but to say more about the details, is to defy what Bryan Talbot has worked to do, and spoil what is a story that is captivating and compelling. It is a fabulous ending, drawing in a whole new aspect to LeBrock, our anthropomorphic Badger Detective of the Yard. I was very pleased with how this comic gives a lovely amount of back story to our protagonist and how that links to what is occurring and also presented us with a lot more detail and for me a wonderful pastiche nod in the form of LeBrock's mentor, Hawksmoor.
Grandville has won the Prix SNCF award for best crime graphic novel and the books have been nominated twice as finalists for the Hugo Awards, and given how good this one is, I would not at all be surprised of it also receives a finalist Hugo nomination next year. This is a thoroughly enjoyable and engaging read, so I was particularly looking forward to seeing the original art on display. I had hoped that there'd be a decent amount of artwork of the latest Force Majeure on display, what I didn't anticipate was a whole retrospective of all five graphic novels, which surpassed my expectations.
The four walls of the exhibition space in Orbital Comics were filled with some twenty-five pages of artwork, with some from all five comics in the series. This was good.
Straightaway, one is looking at the action page from page four of Grandville. The whole four-panel sequence captures so much movement and conveys the story so brilliantly.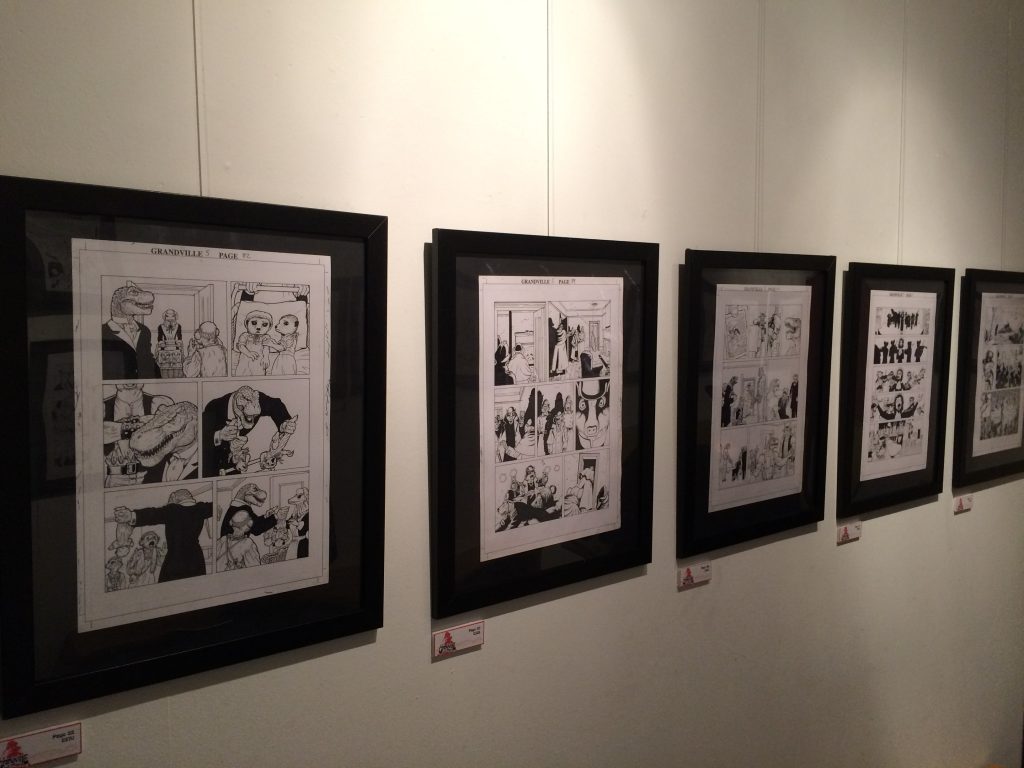 It's really really clean. The black and white artwork is spotless, and indeed I have to say I did not find the lack of colour in any way impacting my appreciation of the art. Movement and action are also portrayed on page ninety, where a fight is taking place, and then with page forty-nine, one sees how detailed and accurate the architecture of a back street can look, while the rain falling adds an energizing dimension to the art, the droplets and water are depicted perfectly.
Again architecture and Bryan's amazing penmanship was on display, with page seven of Grandville Mon Amour. We see Roderick near Big Ben, and the street scene busy, with the city scene expertly and accurately drawn. A juxtaposition with page twenty, where the twelve-panel layout and close-up work is a joy. Seeing the work up close from the hairs on the cat to the detail of Paris in the distance or the ornate door and its crumbling surround next to a character, demonstrates how much effort and work Bryan puts in here, and how dynamic an artist he is.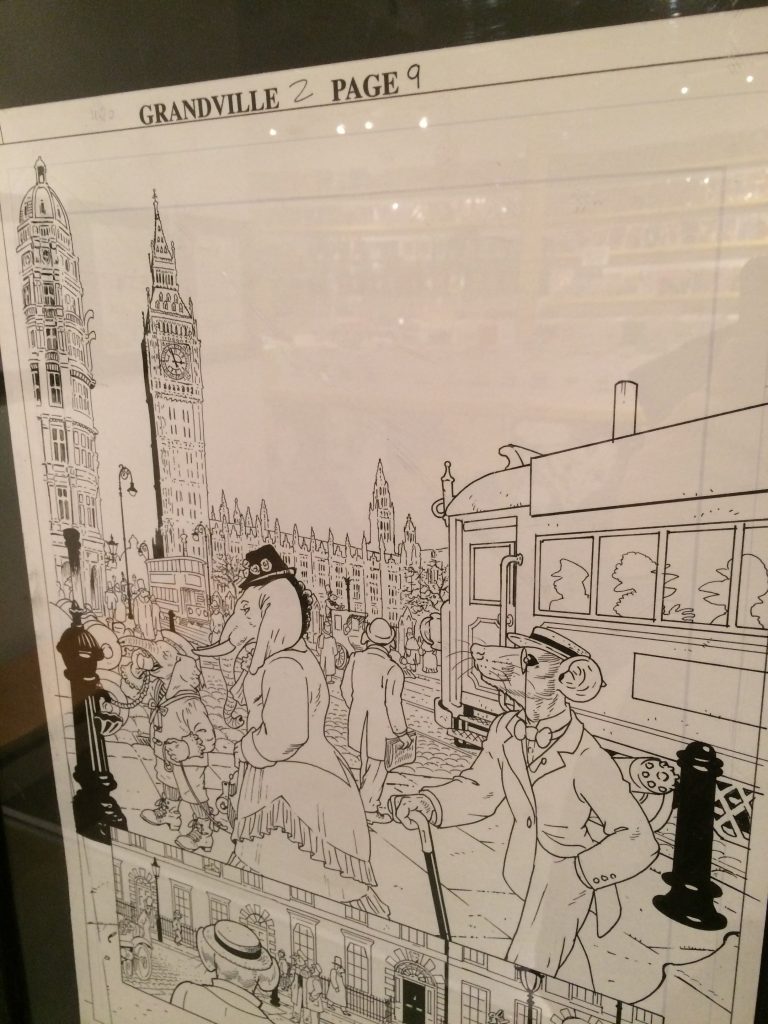 There are three pages from Grandvile Noel and page one captures such a serious scene. The uniforms, the setting the farmland architecture in the distance, all so important to setting the scene. While obvious elements, clothing, flags and so on give an immediate sense of location, it is the grain silo and the windmill in the distance that real give it a sense of place, solidly and accurately portraying an element that could jar and extract the reader from the immersion of the story. This is very important, and something that is occasionally forgotten, although not by the reader, I always will recall an issue of Hellblazer with yellow cabs, US Postal Service post boxes and other American street furniture, when the setting was London, an unfortunate misunderstanding perhaps some twenty-five years ago. While current alternative history comics which portray military uniforms and equipment inaccurately, or even in a distorted fashion undermines and in some cases rends the story apart or useless, such is the importance of cohesiveness between the sequential art and the script.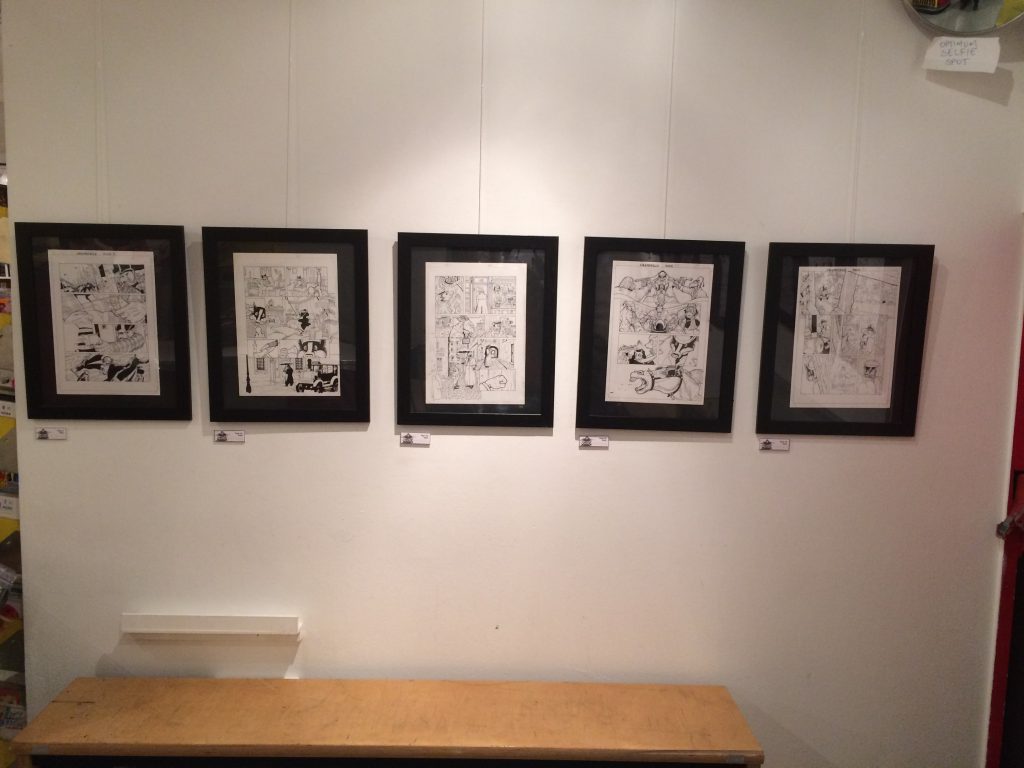 Bryan Talbot being a master of everything with these comics provides an impeccable standard that one gets to enjoy, and is without doubt able to capture items of pure imagination and conjecture with a sense of realness that is perfect, and believable in this fantastical world. His attention to detail continually shows through, and this works very well in invented elements that are pure science fiction, although I hope some ideas have had an interesting conceptual influence.
There are two pages from Grandville Bete Noir and page ninety-three is such an amazingly lovely view, and a fantastic one to see up close.
The final wall has seven pieces from Grandville Force Majeure. There's a refinement to the art that I normally don't expect in its raw form. Minimal pencil work is in view, does Bryan just get it the first time, every time. There is some light blue and light pencil in view, but this is to do with the positioning, lining up and framing of the panels. With that, one can see the thought and accuracy of vision that is being given to the readers.
This is something with Bryan Talbot's work that appeals so much, intrigues and excites. There is often much more to it all than at first one realises. In fairness to Force Majuere, once I realised that there would be other anthropomorphic characters, as in those from other works in the story, just as cameos, I had a great time working out which references, names and of course likenesses were which, and then pondering if I had speculated incorrectly. I smiled widely when I saw Blacksad. This is just one example of his attention to detail, his appreciation for the art, and of course, something I spotted, I am certain there are many secrets in these pages, notions and ideas that exist but that are not immediately clear, or indeed, need and welcome explanation or enlightenment and I love that.
The exhibit space with benches, and a huge banner of the cover of Force Majeure is just right, and I spent considerable time looking, and re-looking at the art, while next door the gentle bustle of comic browsing took place, but separate momentarily as one considered the beauty of this art.
So as I was in Orbital Comics, I got chatting to Karl who manages the shop and took some quick notes. Karl  seemed to share many of my own feelings on Grandville, and I was interested and asked what he liked and he responded, 'the clear lines, a definite development in Bryan's style, the fun of the anthropomorphic characters and the humorous and emotional beats thus offered to the tales.'.
I wondered how it was for him working with Bryan and how it made him feel.  Karl had a good experience and said 'Bryan is a consummate professional, and always a pleasure to work with! Plus I have been a fan since back in the day, probably his Luther Arkwright and Nemesis works first, although subsequently discovering the  Brainstorm Comix, and the adventures of Chester P. Hackenbush was an eye opener! To see that storytelling develop, through to Alice in Sunderland, and of course the beautiful books created with Mary up to now, the Grandville finale, is a pleasure, and to host this exhibition and launch, an honour.'
An honour, I thought, as a fan it is a pleasure to see this artwork here on display, I feel lucky that I can see this, and grateful that the art is here. There is an appreciation amongst comic people I think, of things that are good. Is that simplified, that the aesthetics of a shop, the experience we have at conventions, or the pleasure we gain from art displayed and comics read is incredibly subjective and personal, yet I find amongst fans and professionals, one can – generally- engage positively and share that appreciation. Karl is one of those people, but I am still impressed with this approach ' I do love comic art, we are very lucky to have the space to be able to share an incredible variety of styles, genres, workshops, group shows, and to simply proclaim " comics are art " without fuss. '
That is quite wonderful I thought, as I considered the artwork that I have viewed there, in Orbital Comics, and how much effort goes into such an endeavour, and wasn't it not that long ago that they started here with Watchmen Artwork 'We have been exhibiting for 8 years now, one of the first shows featured the original artwork for page 1 of Watchmen, the smiley face falling in the rain, which sold shortly afterwards for a pitiful $30K.' said Karl. Crikey, I thought, eight years, that is some amount of work.
Some of the exhibits have been especially good, although I pressed Karl about what he had enjoyed, and he said 'the Image Duplicator show in May 2012, comic artists responding to the then current Lichtenstein show at Tate Modern. That felt a little bit like " sticking it to the art establishment "! and the " In Orbit " show this time last year, which was artwork by the Orbital staff, past and current – a formidable and wildly eclectic group!'
This exhibit runs now until December 5, and then coming up, immediately following Bryan's Grandville show, Orbital Comics have a '"Kirby Consciousness" exhibit, a turn of phrase coined by Shaky Kane, which features a huge number of artists paying tribute to Jack Kirby in this, his centennial.' said Karl who mentioned that they will be teasing it on their site although Karl was very keen to praise the variety of people who participate in the exhibits. The Kirby Consciousness exhibition runs from December 9 to January 14, with a special private view event after hours on Friday December 8.
As I walked away with Andrea and Ian, and on our path to meet Russell Smith, there was mutual agreement that this was a destination worth visiting and that seeing artwork in its original state in a fine yet unassuming gallery amongst comics was brilliant.