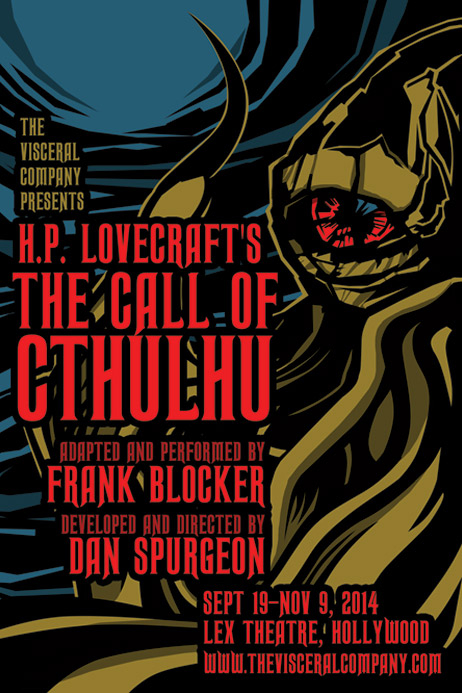 No sooner do I run a story about the controversial demand to replace H.P. Lovecraft's bust on the World Fantasy Award then, everywhere I look, there's a Lovecraft celebration or a performance of his work.
Is this simply a coincidence like when Patty Hearst was supposed to be at large in a white van and I quickly learned every tenth vehicle on the road is a white van? Does the culture continually spawn Lovecraftian activity and I just never noticed?
Or is there no coincidence at all? Halloween is approaching. This is the logical time of year for staging weird and suspenseful productions.
Whatever the explanation may be, I am privileged to report LA is home to yet another HPL-inspired play: H.P. Lovecraft's The Call of Chthulhu, a one-man show with Frank Blocker, under the aegis of The Visceral Company.
The team behind last year's sold-out hit Lovecraft: Nightmare Suite have returned with another classic story from the godfather of modern horror. Going through the papers left behind by a late archeologist, his nephew pieces together the mystery of a dangerous cult and a strange deity. A single actor portrays ten individuals caught up in this investigation, from a Brown University professor to a New Orleans detective to a Norwegian sailor and his wife. All these people are joined together across decades, all links in the story of the monstrous alien god Chthulhu – and the worldwide doom his awakening will bring.
Fridays and Saturdays through November 9 at the Lex Theater in Hollywood. Performances begin at 8 p.m.