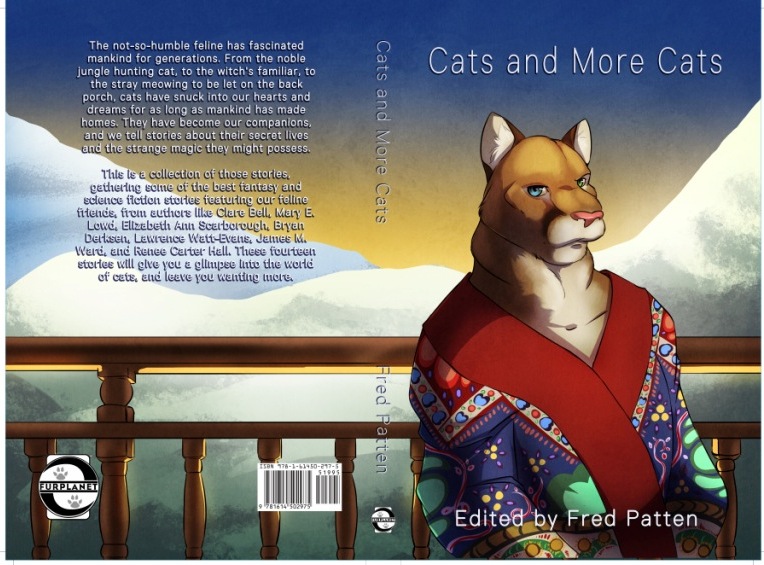 Fred Patten's new anthology Cats and More Cats; Feline Fantasy Fiction is launching at Further Confusion 2016 in San Jose over the January 14-18 weekend.
Cats and More Cats is a reprint anthology containing 14 short stories and novelettes of feline fantasy fiction ("the best of the best") from 1989 to the present, plus a new essay, and an extensive bibliography of cat fantasy books. Price:  $19.95.  261 pages. Wraparound cover by Donryu.
The book can be pre-ordered online from FurPlanet Productions, or purchased from the publisher's online store after the con.
Table of Contents
Trouble, by P. M. Griffin (from Catfantastic; Nine Lives and Fifteen Tales, 1989)
Bomber and the Bismarck, by Clare Bell (from Catfantastic II, 1991)
… But a Glove, by John E. Johnston III (from Catfantastic III, 1994)
Born Again, by Elizabeth Ann Scarborough (from Catfantastic IV, 1996)
Masters and Students, by Bryan Derksen (from the Transformation Stories Contests website, 1997)
Trixie, by Lawrence Watt-Evans (from Catfantastic V, 1999)
Destiny, by Kristine Kathryn Rusch (from Creature Fantastic, 2001)
Three-Inch Trouble, by Andre Norton (from A Constellation of Cats, 2001)
Defender of the Small, by Jody Lynn Nye (from Turn the Other Chick, 2004)
The Luck of the Dauntless, by James M. Ward (from Furry Fantastic, 2006)
After Tony's Fall, by Jean Rabe (from Catopolis, 2008)
Magtwilla and the Mouse, by Mary E. Lowd (from Allasso volume 2, 2012)
A Spoiled Rotten Cat Lives Here, by Dusty Rainbolt (from The Mystical Cat, 2013)
The Emerald Mage, by Renee Carter Hall (from Hero's Best Friend, 2014)
Furry Fandom and Cats, by Fred Patten (original, 2016)
A Bibliography for Bast, by Fred Patten (original, 2016)