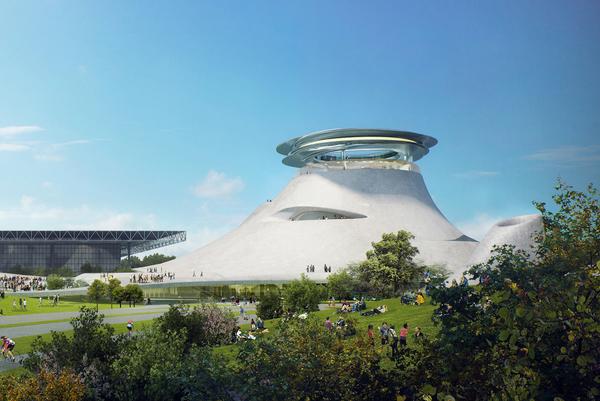 The proposed design for the Lucas Museum of Narrative Art looks more like the architect was told to plan the Gort Klaatu Art Museum. All it needs is an exit ramp and a giant statue of Michael Rennie.
The initial reaction in Chicago is far from enthusiastic. Says a report in the Chicago Business Journal:
Crain's Chicago Business columnist Greg Hinz, who normally doesn't identify as an architecture critic, promptly let it be known he didn't care for the initial design, which resembles a giant snow-covered undulating mound with a glass spaceship perched above it.

But it appeared the main reason for Hinz's chiming in was to reveal that Chicago Mayor Rahm Emanuel and his minions in City Hall also found [architect Ma] Yansong's first effort at a building design to be lacking….

Hinz aside, even the Chicago Tribune's Pulitzer Prize-winning architecture writer Blair Kamin seemed to be, at best, lukewarm about what he saw in the first renderings….

Kamin merely called the design "unexpected" and "ambitious." Which, I suppose, might be described as damning with faint praise.
Whether this or any other design can ever be built at the projected Lakefront location has been called into doubt by the Chicago group Friends of the Parks which has said it will do anything necessary to stop the development, including a possible lawsuit.
[Thanks to Martin Morse Wooster for the story.]