I, Cider, in my quest to make sure every dog gets the best treats, decided to review my favorites, Max and Neo Freeze-Dried Chicken Breast treats, when I received a gift of a new package. I hope you enjoy the review, and all your dog friends enjoy the treats!
Review by Cider: Hi, folks! It's Cider, back again with another tasty dog treat review. Just a warning, I had to promise fewer pictures and no videos this time.
It's another package of Max and Neo treats, this time the freeze-dried chicken treats. I've had these before, but I just got a new package from a friend, and thought it would be good to give these a spotlight, too.
As you can see (better than I can!), it comes in a bright, cheery, yellow package. Lis likes the package, as long as there's only one in sight at a time. Too much bright yellow is too much, she says.
I carefully examined the package, to be sure all was well.
You'll maybe remember that Lis had trouble getting the salmon treats open, because they changed the way they make the opening part. Lis did remember, and this time, she was really careful, and got it properly open only the second time.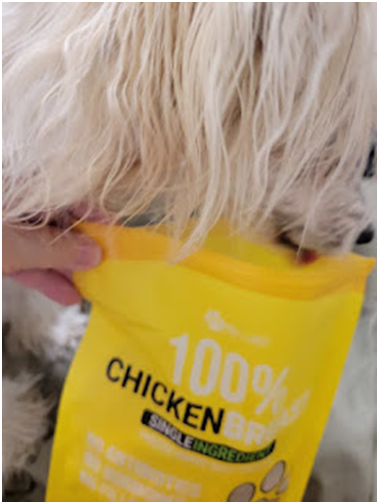 The smell is really good, letting you know this is a really tasty chicken treat.
Here's me working on the piece Lis gave me, a good size, bigger than she gives me when it's just a treat, and I don't need good pictures for the review.
They're crunchy and tasty, and give good chew, a little less chew than the salmon treats, but they're chicken, and how can you top chicken? Yes, folks, chicken is my favorite!
I recommend these to any dog of your acquaintance. They are well worth it, and will definitely inspire your companion to dance. I promise.