By Mark L. Blackman: On the evening of Tuesday, September 8, 2020 (Star Trek Day), the New York Review of Science Fiction Readings Series opened its 30th Season virtually (and perhaps virtuously) with a reading by Michael Swanwick from his extraordinary collaboration with the late Gardner Dozois, The City Under the Stars. The event was hosted by Series producer and executive curator Jim Freund, host of the long-running sf/fantasy radio program Hour of the Wolf on WBAI-FM, and was live on Facebook and posted to the Series' page for later viewing. (Tech was handled by Barbara Krasnoff, and Amy Goldschlager was the virtual audience's "Question Wrangler.")
Michael Swanwick, a longtime reader at the Series, is the author of ten novels, including Vacuum Flowers, Stations of the Tide, The Iron Dragon's Daughter, Jack Faust, Bones of the Earth, The Dragons of Babel, Dancing With Bears, Chasing the Phoenix, and The Iron Dragon's Mother; and roughly 150 stories. Notable among his non-fiction is Being Gardner Dozois, a book-length interview. He has been honored with the Nebula, Theodore Sturgeon, the World Fantasy Award, and the Hugo Award.  (He has frequently noted that he has "the pleasant distinction of having lost more major awards than any other science fiction writer.")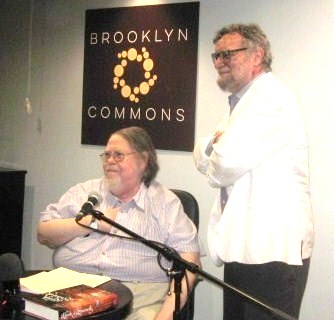 Gardner Dozois was, of course, the editor of Asimov's Science Fiction magazine for almost 20 years, winning the Hugo Award as the year's Best Editor 15 times. He was also honored with the Locus Award, the Nebula Award and the Sidewise Award, inducted into the Science Fiction Hall of Fame, and the Skylark Award for Lifetime Achievement in Science Fiction. He was the author or editor of more than a hundred books.
The evening opened with a discussion between Swanwick and Freund (who proudly displayed his very own Darger and Surplus pen). The book that became The City Under the Stars was long in the making, said Swanwick. Dozois began the story in 1972, but hit a snag. He handed a cardboard box with his unfinished manuscript to Swanwick and asked if he could turn it into a novella. Swanwick said he saw a way – "I lied" – but later did see a plotline. "The City of God" (now the first half of this novel) was published in Omni and Asimov's. The novella was "bleak," "dark," and "a little more downbeat than the Book of Job, without the happy ending."
Its ending seemed to preclude any sequels, but, over the decades, he and Dozois "talked over what might come next" and how a longer, complete story would end; Dozois had "an uplifting idea" for how to give it "a surprisingly happy ending." They planned to write two more novellas, "The City of Angels" and "The City of Men," however, midway through the second novella, Gardner Dozois died.
Subsequently, Swanwick returned to the project – now a memorial to Dozois – because "I wanted the world to see this genuinely happy ending." Aiming to "keep Gardner's vision," he revised and combined both novellas, and changed the direction of the work in progress. As he wrote on Tor.com, Swanwick "made of them a novel I think Gardner would have been pleased with. The ending is exactly what Gardner envisioned all those decades ago. A happy one. For everyone. When I wrote the last words of it, I cried."
Swanwick's reading selection was from the very beginning of Chapter 1, opening in Orange, NY. The protagonist, Hanson, is part of a crew digging in a pit for and shoveling coal to feed the machines. From there, though, he can see the City of God, "perfect and inviolate." It's an "astonishingly depressing story." After that "bleak" passage, "things get even worse and worse." He later enters the City of God, but that's not yet "the happy ending" by any means.
Hanson, Swanwick surmised, was based on Dozois himself, "a blue-collar kid who grew up in the factory town of Salem, Massachusetts. … His sympathy was with the downtrodden." Despite his image of being "large and jolly," Dozois was "shy and private." He knew that by becoming editor of Asimov's, he was effectively ending his writing career, and his output did decrease.
Answering Freund about his own path, Swanwick said that he decided to become a writer after reading The Lord of the Rings; he wanted to make an impact like that. Another influence or impetus was his father's early onset Alzheimer's. This segued into a Q&A, with questions from Carol Gyzander, Ian Randal Strock and Gregory Frost, among others.
Swanwick reminisced about a collaboration of his with Dozois and Jack Dann, "An Afternoon at Schraft's," which was eventually published in a themed anthology with one title. His personal favorite Dozois story is "A Special Kind of Morning," a war story. In his collaborations with Dozois, "Gardner was always the alpha male," with say on the final draft. He reminisced about hosting the Milford-style workshop "Philford." He met Dozois shortly after he (Swanwick) came to Philadelphia, through a friend of a friend. Eventually, Dozois shrugged and offered to make suggestions on "your sucky stories." Swanwick is currently working on short stories for Tor.com. Final words: "Don't let your babies grow up to be writers." (It's a funny business, he observed. On the same day, he received checks for $9 and $1,400.)
The next reading, announced Freund, is Tuesday, October 6th, with C.L. Polk and will be guest-hosted by Amy Goldschlager. As a postscript, he noted that the software being used was "not free" and suggested that donations be made via PayPal (details are on the Series' Facebook page). Finally, he noted again that this was the first reading of the Series' 30th Season, also Series founder Gordon Van Gelder's birthday – and Star Trek Day.