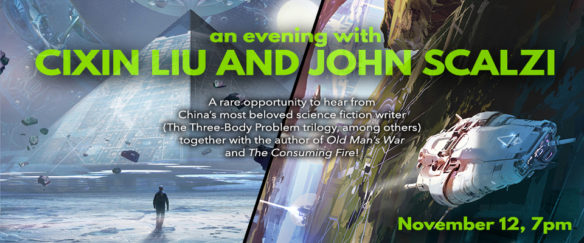 The Arthur C, Clarke Center for Human Imagination will host an "Evening with Cixin Liu and John Scalzi" at UC San Diego on November 12.
They will discuss their work and the power of speculative worldbuilding, and sign books following the event.
Cixin Liu, or Da Liu, as he is affectionately called by his fans, is the most prolific and popular science fiction writer in the People's Republic of China. Liu is an eight-time winner of the Galaxy Award (the Chinese national award) and a winner of the Nebula Hugo Award. Translated in English by Ken Liu, The Three-Body Problem achieved major acclaim, including recognition by former president Barack Obama. Prior to becoming a writer, Liu worked as an engineer in a power plant in Yangquan, Shanxi.

John Scalzi won the 2006 John W. Campbell Award for Best New Writer, the 2013 Hugo Award for Best Novel for Redshirts, and his debut novel Old Man's War was a finalist for Hugo Award. His other books include The Ghost Brigades, The Android's Dream, The Last Colony, The Human Division and Lock In. He has won the Romantic Times Reviewers Choice Award for science fiction, the Seiun, The Kurd Lasswitz and the Geffen awards. Material from his widely read blog Whatever has also earned him two other Hugo Awards. His latest book is The Consuming Fire.
November 12, 2018
7:00pm–8:30pm
Telemedicine Auditorium, UC San Diego
Tickets: $12 via Eventbrite
Tickets are required
Books will be for sale courtesy of Mysterious Galaxy Bookstore
A signing will follow
Update 10/25/2018: Corrected press release from Nebula (which Cixin Liu has never won) to read Hugo (which he has.)