Editor Neil Clarke has announced the finalists for the 2022 Clarkesworld Magazine Reader's Poll for best story, novelette/novella and cover art.
Clarke commented:
…As the voting progressed, several stories and covers traded places at the top of the ballot for each category. This continued down to the final hours and at the buzzer, we were once again left with several ties. As per tradition, ties in the top five progress to the final round. Each category had a small cluster of ties just one vote shy of making the final ballot. We've added honorable mentions to this year's results to recognize the quality of their work as well…
The public is invited to pick the winners. Go to: www.surveymonkey.com/r/clarkesworld2022poll Voting will close on February 15 at 8:00 p.m. Eastern and the winners will be announced in the March issue.
FINALISTS: BEST SHORT STORY
Runners Up: Short Story
FINALISTS: BEST NOVELETTE/NOVELLA
Runners Up: Novelette/Novella
FINALISTS: BEST COVER ART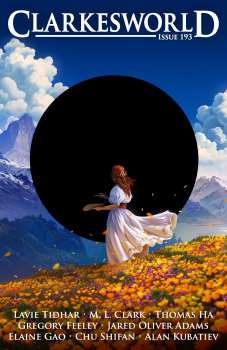 Runners Up: Cover Art