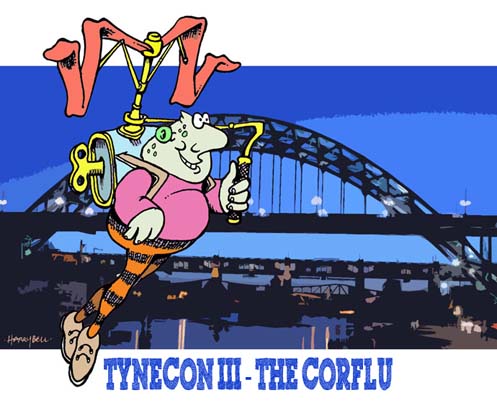 Nick and Nora Charles would ditch a mystery to party with the fanzine fans if they ever heard what Sandra Bond wrote about next year's Corflu in PR#1:
When you head up to Newcastle next March, don't think of yourself as being on the way to a sleazy, boozy weekend of mere carousing and merriment. (Although that may be involved.) Think of it as being on the way to a festival of the arts, where lively debate may be expected upon the place of our particular art in the modern milieu.
Nick and Nora would be even more delighted to learn the main program room opens onto a bar. Corflu's program designers Doug Bell, Christina Lake, Claire Brialey, Mark Plummer are their kind of people, too:
We're planning to start the programme at 2 pm on Friday. That should give most people time to travel to Newcastle and hopefully get a drink before things get started at the hotel.
But – dignity, always dignity! – the program room is The Heritage Suite of the Vermont Hotel, formerly the Council Chamber of the Northumberland County Council. So, art.
Mark your calendar and keep your passport handy — Tynecon III: The Corflu runs March 27-29, 2015 at The Vermont Hotel, Newcastle upon Tyne, UK.