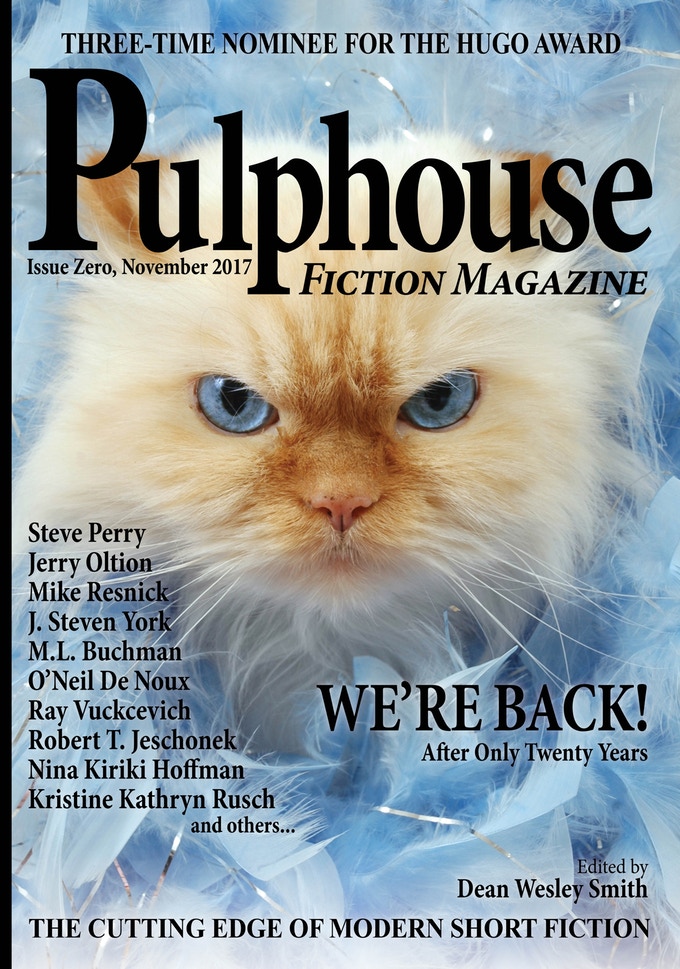 By Carl Slaughter: Dean Wesley Smith is back. Well, Dean has always been here, cranking out stories faster than we can read them. But after 20 years, he is bringing back Pulphouse.
CARL SLAUGHTER:  What was the original vision for "Pulphouse"?
DEAN WESLEY SMITH:  Pulphouse started off in 1987 as Pulphouse: The Hardback Magazine, edited by Kris [Kristine Kathryn Rusch]. We did the full run of twelve issues and then I started Pulphouse: The Fiction Magazine. The vision for both was to publish short stories and fiction that would be high quality, multi-genre, and different. We were often called "A Dangerous Magazine" but in the Fiction Magazine incarnation I went to more twisted and fun.
CS:  How long did it run and what level of readership did it have?
DWS:  It ran for 19 issues plus an issue zero, so twenty total. I think it lasted about four years and got three Hugo nominations along the way. It was always just under the 10,000 circulation number needed to be a full pro magazine in those days by Locus standards.  Pulphouse, the business, ended up doing 287 different titles in nine years of life.
CS:  How did it evolve and what impact did it have?
DWS:  It started as an idea to do a weekly fiction magazine. That quickly in 1992 became clear that wasn't possible for a ton of reasons. It would be possible now, in this new world, but we are not going there.
It always had schedule problems and for two issues Jonathan Bond, a young turk writer edited it to try to get a younger look on the thing. And Damon Knight was a special guest editor on one issue.
For the next twenty years I had people tell me how much they loved Pulphouse, so I guess it had an impact. I was too close to it so couldn't judge.
CS:  Why did it shut down?
DWS:  Two major reasons. Money was the first. Pulphouse Publishing Inc. was behind in money right from the start and even though the Fiction Magazine was profitable, it was too hard to keep things going on my own there at the end.
The second reason was that in 1992 I went back to writing full-time and the writing just took more and more of my attention, so we shut down the company in 1996 and paid back all the debts with writing. I went on to write over a hundred novels for traditional publishers before turning completely to indie through WMG Publishing.
One thing we are doing with the new incarnation is that if you had a subscription to Pulphouse: A Fiction Magazine when we shut down all those years ago, just let us know and we will credit you with a subscription to the new magazine.
CS:  Why bring it back after 2 decades?
DWS:  Honestly, because it was fun and it had attitude. And as a co-executive editor on Fiction River, I kept seeing stories I would say, "This would be perfect for Pulphouse." So now that WMG Publishing is stable and Fiction River has been going now for over five years, we decided to bring Pulphouse back, let me go at it again and have fun with attitude.
Plus with the technology of this new world, it is simple compared to the old technology we were dealing with in 1992.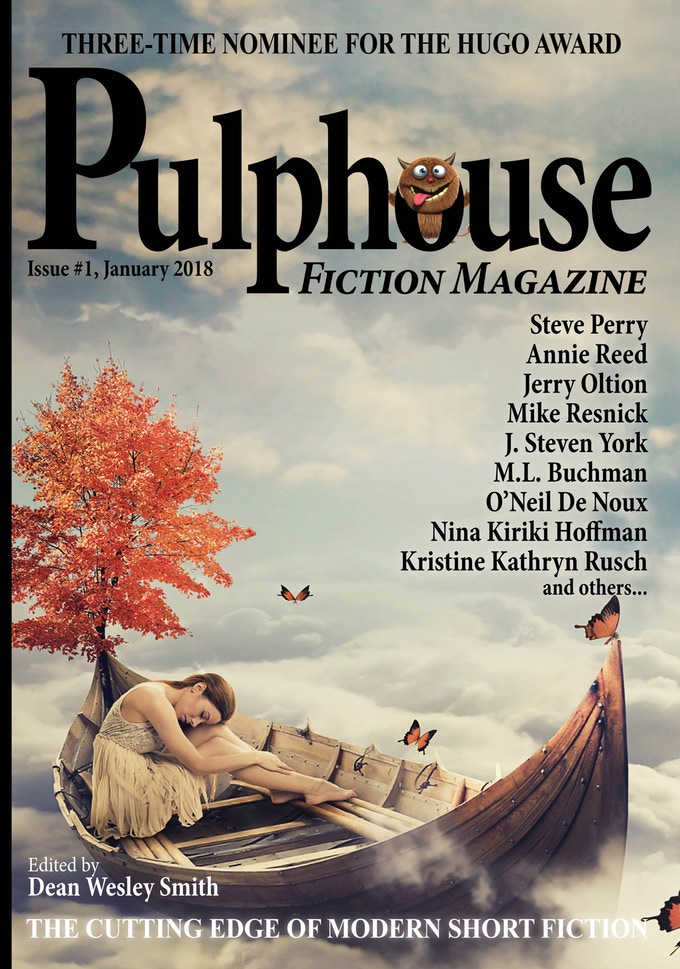 CS:  What's the new vision?
DWS:  Fun and top fiction. No reader from story to story will know what will be next.  And I hope a few head-shakers, readers not believing they read that. In Issue Zero we are republishing a Robert T. Jeschonick story about sentient underwear on a quest. Stunning story that was originally in Fiction River. (Issue Zero will be all reprints. We are giving the issue free to everyone who supports Pulphouse on our Kickstarter.)
CS:  What will it contribute to speculative literature that's not already on the market?
DSW:  I hope it allows readers to find writers they haven't found yet. Speculative fiction these days has become very, very small and contained and so many top writers and stories are going unnoticed in the indie world by the speculative fiction world. So I hope to introduce some of those writers inside the field.
The magazine will be very focused on helping promote the writers in its pages, including free ads for their books and lots of links as well as features on the website. Extremely author friendly if I buy your story.
CS:  What's the business model?
DWS:  Four issues a year in electronic and paper edition, with an active web site with fiction on the web site. Over 70,000 words of fiction. No reviews, no real articles. Just a focus on fiction and fun. The magazine is owned by WMG Publishing Inc. and Allyson Longueira is the publisher. Jonathan Frase is the managing editor and website person.
CS:  What's the editorial strategy?  What genres and subgenres will be included and not included?  What percentage of new versus reprint?  Open submissions? 
DWS:  Every genre and sub genre welcome if it has the "Pulphouse" feel, meaning twisted in one way or another. Or very, very high quality. So totally inclusive of all genres. Over twenty stories every issue. It is going to be great fun.  It will have about one-third brand new fiction, two-thirds reprints. Understand that a lot of the reprints will be from the old magazines since many people weren't even born when those great stories were published. Also a lot of great stories from authors collections that were only published indie first. That sort of reprint. It will be rare when a reader recognizes a story. Very rare I would bet.
New authors every issue. No open submissions at this point. I am finding more than enough new and experienced authors in the indie world and through other methods. But if we do open, it will be announced on the website. But we want to get this off the ground first.
CS:  What authors can we expect to see?
DWS:  I'll attach a few of the covers to show you some of the names. But experienced names like Kristine Kathryn Rusch, Mike Resnick, Steve Perry, Nina Kiriki Hoffman, Jerry Oltion, and so on, to really wonderful writers like Ray Vukcevich, Robert T. Jeshonick, Annie Reed, and many, many others.