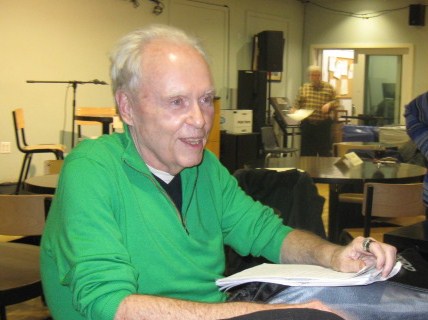 By Mark L. Blackman: On the evening of Tuesday, January 8, 2019, the New York Review of Science Fiction Readings Series held a Diamond Jubilee celebration for local writer Richard (Rick) Bowes on the occasion of his 75th Birthday.
Richard Bowes is the author of six novels, four story collections and over 80 short stories, earning two World Fantasy Awards, a Lambda Award, a StorySouth Million Writers Award, and an International Horror Guild Award, as well as works short-listed for the Nebula Award. He is a familiar face (and voice) as reader and audience at both the NYRSF and the Fantastic Fiction at KGB Reading Series. Born in Boston (with the accent to prove it), he grew up there and on Long Island, and has lived for decades in Greenwich Village.
The event, held at the Series' venue, the Brooklyn Commons Café on Atlantic Avenue in the Borough sharing its name, kicked off as usual with a welcome from producer/executive curator Jim Freund, longtime host of WBAI-FM's Hour of the Wolf radio program on sf and fantasy (99.5 FM in New York and worldwide at wbai.org), a reminder – or warning – that cameras were recording (the readings are Livestreamed), and an announcement of upcoming readers:
Feb. 5: Karen Heuler and Mimi Mondal
March 5: To Be Determined
April 2: Theodora Goss and Barbara Krasnoff, guest-hosted by Mike Allen
Concluding his introduction to the event, Freund remarked that he "first met Rick forever ago" and described him as "a writer (and personal friend) whose accomplishments have entertained and challenged the thinking of innumerable readers" during his over 35 years in the genre, and his "go-to guest on Hour of the Wolf." A reading by Bowes of his 9/11 story, "There's a Hole in the City" (online now at Nightmare Magazine), is broadcast each year around 9/11 over WBAI.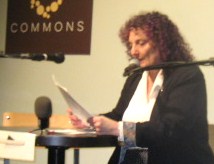 At the microphone, much-honored editor of over 100 anthologies (and co-host of the aformentioned Fantastic Fiction Reading Series), Ellen Datlow, characterized Bowes as "a natural-born storyteller," and read a tribute essay by Jeffrey Ford, "Bowes." In it, Ford related how he met Bowes (at a Nebula Weekend) and how he was mentored by him. (Rick has also similarly helped other writers in the sf/fantasy community.) Bowes, he declared, is "low-key, but hysterical" (indeed, he has a wicked sense of humor that veers between acerbic wit and smartass cracks). "No one writes about New York like Rick" (as his followers on Facebook know) as "he moves through history in his fiction." His time in New York (by which is meant the Village, East and West) encompasses the eventful (and tumultuous) times pre- and post-Stonewall, the AIDS crisis, and, as noted, 9/11.
Next, Barbara Krasnoff conducted an interview with Bowes (both are members of the New York City writers group Tabula Rasa) about his early writing career and an overview of his body of work, which includes If Angels Fight, Minions of the Moon, From The Files of the Time Rangers, and Dust Devil On a Quiet Street. If he is "remembered for anything," he mused, "it will be for 'There's a Hole in the City.'" (Set on Wednesday, Sept. 12th, in it he alludes as well to past tragedies like the General Slocum, an excursion steamer that burned in the East River, and the Triangle Shirtwaist Factory Fire.)
More recently, his work has appeared (or will be appearing) in Mad Hatter and March Hares, Queers Destroy Fantasy, The Doll Collection, Black Feathers, and The Eyes Of Jack Saul. He is currently writing stories for a "fix-up novel" (short stories stitched together into a novel) about a gay kid in 1950s Boston. In a closing quip, he thanked Barbara and the gathering "for helping me remember stuff about myself that I didn't know." (At one point, he attributed a memory lapse to "This is what Trump has done to me.")
During the intermission, there was a raffle drawing for donors (suggested donation is $7, but no one is turned away), with the prizes being Bowes' Minions of the Moon and "short short stories" in the form of haikus, plus a copy of Ford's tribute essay.
Opening the second half of the evening, Freund revealed that, among his other talents, Bowes is a songwriter, and brought up Natti Vogel to sing a ditty, lyrics by Rick and his brother Jerry, "I'm Oedipus Rex" (to the tune of "I'm Henry VIII," from long before Natti's time):
I'm Oedipus Rex, I am,
Oedipus Rex, I am, I am.
I got married to the widow next door.
She was married to my father before.
Rehabilitating himself from that literary travesty, Bowes read a story from his fix-up novel about Kevin, a gay kid with a shadow, his doppelganger, and the opening pages from "There's a Hole in the City," set on the evening of the day after 9/11, smoke and dust still in the air (and a family of tourists tries to get past checkpoints to gawk at Ground Zero).
Then, to conclude the festivities, a birthday cake – a vanilla cake decorated by Randee Dawn – was brought out (only one candle) and Vogel led us in "Happy Birthday." Finally, his sister came up to share brief reminiscences about her "amazing" and "remarkable" brother, "Ricky." (He taught her how to play chess and how to give him backrubs.)
As traditional at these Readings, the Jenna Felice Freebie Table offered giveaway books. The Café saw to more substantial food (and cake) needs.
The crowd of about 60 also included Rob Cameron, Madeline Flieger (Tech Director), Amy Goldschlager (filling in as ticket-taker for Barbara), Karen Heuler, Andrea Katz, Lynn Cohen Koehler, Matthew Kressel, Lissanne Lake, Brad Parks, David Mercurio Rivera, Pam Roberson, and Paul Witcover.