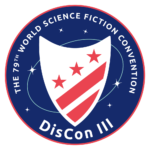 DisCon III today put out a message from convention chair Mary Robinette Kowal about Covid at the 2021 Worldcon:
---
Here is an update on Covid cases and DisCon III.
Concerning the case we reported on Friday, we are happy to share that their PCR test was negative. They are feeling better.
But …
Another positive test result has been reported.
One DisCon III member who was staying off-site was feeling poorly on Friday Night.
They went home and woke on Saturday with a scratchy throat, took a covid antigen test, and tested positive.
They are self-isolating with their partner who has tested negative.
They did not attend any program items.
They spent very little time in the Omni Shoreham and were masked at all times.
They attended the Art Show on Thursday at 6 pm ET and never removed their mask.
They dined at Lebanese Taverna on Thursday and Friday, unmasked while dining, their companions have tested negative.
If you are symptomatic, we have rapid test kits we can deliver to your room. Please email covid@discon3.org to make arrangements.
Please remember to wear your mask at all times. We recommend installing the DC CAN (DC Covid Alert Notice) app on your mobile device, which will notify you if you come into contact with someone who has tested positive for Covid-19. To learn about where you can obtain a Covid test here in DC, please click this link: https://discon3.org/covid-19-testing-locations-in-dc/
If you have any questions or concerns, please email covid@discon3.org
[From a press release.]