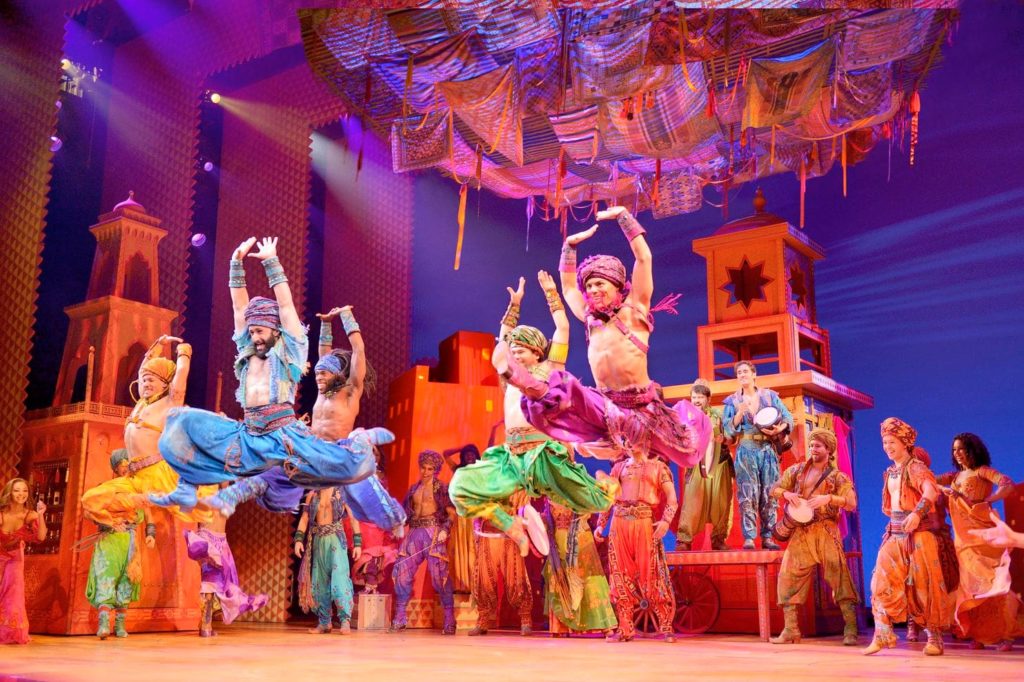 By Martin Morse Wooster: If you're wondering why there are so many musicals based on movies, blame the New York Times.
This winter I read Razzle Dazzle, a very entertaining oral history of Broadway between 1900-1990 by Michael Riedel.[1] According to Riedel, when Beauty and the Beast was released, Times critic Frank Rich said the film was "the best Broadway musical" released that year. The suits at Disney headquarters read Rich's review and thought to themselves, "Hmmm! Turning our movies into musical theater! What a really good idea!" And so the Disney Theatrical Group was born.
Aladdin is the second Disney musical I've seen, after The Little Mermaid. But while The Little Mermaid was the theatrical equivalent of AAA baseball, Aladdin was the national tour that played at the Kennedy Center Opera House, a 3,000-seat venue.
I knew this was an upscale evening when I stopped to buy a CD and refrigerator magnet. Disney wouldn't sell me a CD: I could only buy it as part of a package that included a program that was very pretty but that I really didn't want to buy.
But the store was full of schwag! Had I wanted to, I could have gotten the official Aladdin fleece blanket, the lamp, the dolls, the teddy bear, the expensive dolls… I didn't see anyone buy any of this stuff, but they wouldn't make it if people weren't buying it.
As for the musical, the score is by Alan Menken, who's written scores for a DVD shelf full of Disney musicals. His first collaborator was Howard Ashman, who wrote the lyrics for Beauty and The Beast and The Little Mermaid (and, pre-Disney, Little Shop of Horrors). But Ashman died of AIDS in 1991 while Aladdin was in development, so Sir Tim Rice was brought in as lyricist. To my mind, Sir Tim is a lesser lyricist than Ashman, but he wrote the lyrics for "A Whole New World," which is the greatest Disney power ballad of all time and which won an Oscar.
For the stage version of Aladdin, which premiered in 2014, Chad Beguelin was brought in for a new book and some new songs. In the stage version, Howard Ashman wrote the lyrics for five songs, Sir Tim Rice wrote two, Chad Beguelin wrote four, and the rest were collaborations.
Having bought the CD/program, here are some secrets from it. Remember the great Max Fleischer cartoon where Popeye met Aladdin and the genie? That's the genesis of this musical. You're supposed to detect traces of Fats Waller and Cab Calloway in the score.
And yes, the genie is black.
As for the plot—well, come on, you know the plot. Disney released the Aladdin remake last month![2] The smarter question is: what are you getting on stage that you aren't getting in a movie theatre?
Well, the book has quite a lot of snark in it. Beguelin does indeed rhyme "awful" with "falafel." And if you want more Mediterranean food jokes, there were some for hummus and baba ganoush.
And there's dancing! Lots and lots of dancing! Aladdin has three sidekicks, and boy do they dance! They make a "Dancing With The Stars" joke in Aladdin, except here it's "Dancing With The Scimitars," and yes, they dance with scimitar swords.
But what made Aladdin work was the sets and the direction. Casey Nicholaw directed; he got a Tony for this show and another Tony for The Book of Mormon. The set designer was Bob Crowley, who has done a lot of work for the National Theatre and the Royal Shakespeare Company in Britain.
Every time I saw one of Crowley's brightly colored sets, I told myself, "This is cool." And the flying carpet was very cool.
As for the performers, two stood out. Korey Lee Blossey was the genie I saw; he's actually the understudy but was fully prepared for the demanding part and even did a cartwheel on stage just to prove he could. Jonathan Weir played the villain Jafar; he's done a lot of work in Chicago and has a great voice. He reminded me of Jonathan Harris in "Lost in Space."
Washington Post theatre critic Nelson Pressley called Aladdin a "Big Gulp XL" of a musical, and when I watched it, I felt the same way I feel when the free Cherry Coke kicks in after a Saturday afternoon at the movies. Aladdin wasn't great art, but a very well made, high-quality entertainment with plenty of first-rate singing, dancing, and jokes.
Finally, a word about Disney. A Financial Times article recently referred to Disney as "the apex predator" of entertainment, but the reason they got to the top is because they hire first-rate talent and give them a chance to show their excellence. Yes, Disney has stinkers (OK, I saw Cars 3) but more often than not their productions work.
I suspect Frozen will be the nest Disney Theatrical Group production to come to Washington. I can't wait to see it.

---
[1] The best bit of ancient gossip in Razzle Dazzle is about David Belasco, who was the lion of Broadway in 1910 but is only remembered because he wrote the plays Puccini turned into Madama Butterfly and The Girl of the Golden West. According to Riedel, Belasco liked wandering around wearing a priest's vestments. No one knows why, but one likely reason is that Belasco thought the vestments would attract women.
[2] Yes, I saw the new Aladdin. It's good, but The Lion King is much better.