By Carl Slaughter: After a hiatus of several years, Elizabeth Moon is back with Vatta's Peace, a new subseries of Vatta's War.  The first Vatta's Peace novel, Cold Welcome, came out in April from Del Rey. Check out the new cover art for Elizabeth Moon's Cold Welcome.  Comes with the paperback edition.  Much more striking.
The sequel, Into the Fire, is set for early 2018.  Moon has been nominated for the Hugo, Nebula, Clarke, Heinlein, and Crook awards.
Kylara Vatta is the only daughter in a family full of sons, and her father's only child to buck tradition by choosing a military career instead of joining the family business. For Ky, it's no contest: Even running the prestigious Vatta Transport Ltd. shipping concern can't hold a candle to shipping out as an officer aboard an interstellar cruiser. It's adventure, not commerce, that stirs her soul. And despite her family's misgivings, there can be no doubt that a Vatta in the service will prove a valuable asset. But with a single error in judgment, it all comes crumbling down.

Expelled from the Academy in disgrace–and returning home to her humiliated family, a storm of high-profile media coverage, and the gaping void of her own future–Ky is ready to face the inevitable onslaught of anger, disappointment, even pity. But soon after opportunity's door slams shut, Ky finds herself with a ticket to ride– and a shot at redemption–as captain of a Vatta Transport ship.

It's a simple assignment: escorting one of the Vatta fleet's oldest ships on its final voyage . . . to the scrapyard. But keeping it simple has never been Ky's style. And even though her father has provided a crew of seasoned veterans to baby-sit the fledgling captain on her maiden milk run, they can't stop Ky from turning the routine mission into a risky venture–in the name of turning a profit for Vatta Transport, of course.

By snapping up a lucrative delivery contract defaulted on by a rival company, and using part of the proceeds to upgrade her condemned vehicle, Ky aims to prove she's got more going for her than just her family's famous name. But business will soon have to take a backseat to bravery, when Ky's change of plans sails her and the crew straight into the middle of a colonial war. For all her commercial savvy, it's her military training and born-soldier's instincts that Ky will need to call on in the face of deadly combat, dangerous mercenaries, and violent mutiny. . .
The exciting military career she hoped for never got off the ground–but Ky Vatta ended up seeing plenty of combat when she took the helm of one of the commercial transport vessels in her family's fleet . . . and steered it into a full-blown war. Now the lessons she learned in that trial by fire are about to pay off: because this time, the war has come to her. To be exact, someone unknown has launched a full-throttle offensive against Vatta Transport Ltd., Ky's father's interstellar shipping empire. In short order, most of Ky's family is killed, and subsequent attacks sever vital lines of communication, leaving Ky fighting, in every sense, to survive.

Determined to identify the ruthless mystery enemy and avenge her family's name, Ky needs not only firepower but information. And she gets both in spades–from the band of stranded mercenaries she hooks up with, from her black-sheep cousin, Stella, who's been leading a secret life, and from Stella's roguish ex-lover, Rafe. Together they struggle to penetrate the tangled web of political intrigue that's wreaking havoc within InterStellar Communications, whose effective operation their own livelihoods–and perhaps lives–depend on.

But the infighting proves to be infectious, and it isn't long before Ky's hired military muscle are turning their suspicions on the enigmatic Rafe, whose wealth of knowledge about ISC's clashing factions and startling new technologies has begun to make him smell like a rat . . . or a mole. With swift, violent destruction a very real possibility, the last thing Ky needs is a crew divided against itself–and she's prepared to take whatever measures are necessary to ensure that Vatta stays in business, as well as in one piece.

What she's not prepared for is the shocking truth behind the terror– and a confrontation with murderous treachery from a source as unexpected as it is unrelenting.
The brilliantly unorthodox Kylara Vatta, black-sheep scion of Vatta Transport Ltd., one of the galaxy's wealthiest merchant houses, is a heroine like no other, blessed with a killer instinct for business and for battle. Now, in the aftermath of cold-blooded assassinations that have left her parents dead and the Vatta shipping empire shattered, Kylara faces her greatest challenge yet.

There is a time for grief and a time for revenge. This is decidedly the latter. Placing her cousin Stella in command of the trading vessel Gary Tobai, Ky embarks aboard the captured pirate ship Fair Kaleen on a twofold mission: to salvage the family business and to punish those responsible for the killings . . . before they strike again.

Since the network providing instantaneous communication between star systems has been sabotaged, news is hard to come by and available information impossible to trust. But as she travels from system to system, with Stella a step behind, Ky pieces together the clues and discovers a conspiracy of terrifying scope, breathtaking audacity, and utter ruthlessness.

The only hope the independent systems and merchants have against this powerful enemy is to band together. Unfortunately, because she commands a ship known to belong to a notorious pirate–her own relative Osman Vatta, whom she killed for his part in her parents' deaths–Ky is met with suspicion, if not outright hostility. Rumors swirl about her intent, her very identity. Soon even Stella begins to question her cousin's decisions and her authority to make them.

Meanwhile, the conspiracy Ky hunts is hunting her in turn, with agents insinuated into every space station, every planetary government, every arm of the military, and every merchant house–including her own. Before she can take the fight to the enemy, Kylara must survive a deadly minefield of deception and betrayal.
With the Vatta's War series, award-winning author Elizabeth Moon has claimed a place alongside such preeminent writers of military science fiction as David Weber and Lois McMaster Bujold. Now Moon is back–and so is her butt-kicking, take-no-prisoners heroine, Kylara Vatta. Once the black-sheep scion of a prosperous merchant family, Kylara now leads a motley space force dedicated to the defeat of a rapacious pirate empire led by the mysterious Gammis Turek.

After orchestrating a galaxy-wide failure of the communications network owned and maintained by the powerful ISC corporation, Turek and his marauders strike swiftly and without mercy. First they shatter Vatta Transport. Then they overrun entire star systems, growing stronger and bolder. No one is safe from the pirate fleet. But while they continue to move forward with their diabolical plan, they have made two critical mistakes.

Their first mistake was killing Kylara Vatta's family.

Their second mistake was leaving her alive.

Now Kylara is going to make them pay.

But with a "fleet" consisting of only three ships–including her flagship, the Vanguard, a souped-up merchant cruiser–Kylara needs allies, and fast. Because even though she possesses the same coveted communication technology as the enemy, she has nowhere near their numbers or firepower.

Meanwhile, as Kylara's cousin Stella tries to bring together the shattered pieces of the family trading empire, new treachery is unfolding at ISC headquarters, where undercover agent Rafael Dunbarger, estranged son of the corporation's CEO, is trying to learn why the damaged network is not being repaired. What he discovers will send shock waves across the galaxy and crashing into Kylara's newly christened Space Defense Force at the worst possible moment.
For Ky, it's not just about liberating the star systems subjugated by Turek and defending the rest of the galaxy's freedom. There's also a score to be settled and payback to be meted out for the obliteration of the Vatta Transport dynasty . . . and the slaughter of Ky's family. But the enemy have their own escalation efforts under way–including the placement of covert agents among the allies with whom Ky and the surviving Vattas are collaborating in the war effort. And when a spy ring linked to a wealthy businessman is exposed, a cracked pirate code reveals a galaxywide conspiracy fueling the proliferation of Turek's warship fleet.

Matching the invaders' swelling firepower will mean marshaling an armada of battle-ready ships for Ky to lead into combat. But a violent skirmish leaves Ky reeling–and presumed dead by her enemies. Now, as Turek readies an all-out attack on the Nexus system–a key conquest that could seal the rest of the galaxy's doom–Ky must rally to the challenge, draw upon every last reserve of her strategic skills, and reach deep if she is to tear from the ashes of tragedy her most decisive victory.
Summoned to the home planet of her family's business empire, space-fleet commander Kylara Vatta is told to expect a hero's welcome. But instead she is thrown into danger unlike any other she has faced and finds herself isolated, unable to communicate with the outside world, commanding a motley group of unfamiliar troops, and struggling day by day to survive in a deadly environment with sabotaged gear. Only her undeniable talent for command can give her ragtag band a fighting chance.

Yet even as Ky leads her team from one crisis to another, her family and friends refuse to give up hope, endeavoring to mount a rescue from halfway around the planet—a task that is complicated as Ky and her supporters find secrets others will kill to protect: a conspiracy infecting both government and military that threatens not only her own group's survival but her entire home planet.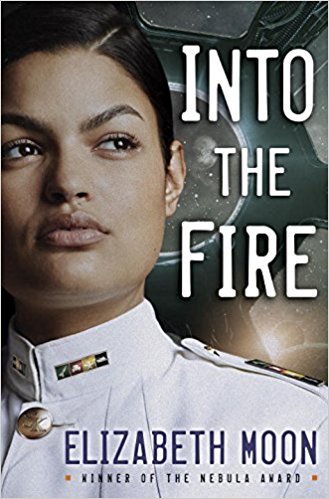 As Admiral Kylara Vatta learned after she and a shipfull of strangers were marooned on an inhospitable arctic island, the secrets she and her makeshift crew uncovered were ones someone was ready to kill to keep hidden. Now, the existence of the mysterious arctic base has been uncovered, but much of the organization behind it still lurks in the shadows. And it is up to the intrepid Ky to force the perpetrators into the light, and finally uncover decades worth of secrets–some of which lie at the very heart of her biggest family tragedy.