By David Doering:  On September 8, Utah's long-awaited Evermore Park held a preview to show off its work-in-progress. I was invited to join them and experience this taste of things to come.
Superlatives are inadequate to describe Evermore. It's like Disneyland with the buildings, but it's not. It's like Medieval Times with the characters performing, but it's different. In fact, we are going to have to come up with a new word to describe this out-of-our-world-and-outside-of-our-time experience. Is it a Fantastic Adventure park? Or maybe an NR-New Reality? ER–Engaging Reality? BR–Better than Reality??
I don't want to sound like a brochure for Evermore, but its hard not to get totally enthralled by what it is.  Entering the park is like having a time-travel spell cast on you. Yes, it's kind of like walking down along Disneyland's Main Street, with buildings and places right out of the Victorian or Medieval times. But unlike Disneyland, there's nothing in Evermore to break that spell–no contemporary signs, no pitchmen with paraphernalia for sale as souvenirs. One minute you're in the bedroom community of Pleasant Grove, Utah. The next you are 200 or 300 years ago in a small village on the edge of the Twilight Zone.
Here's a Lord and Lady greeting you and welcoming you to Evermore. Maidens and mighty men meander the paths as do monsters and mythological creatures. Here's a shambling horde of the undead coming up a lane, eager to embrace you. (Hey, aren't us Living also the "Undead"??)
Every detail is exactly correct. There's real cobblestones for the streets. There's torch lights burning on the paths. There's hundreds of trees and shrubs and bushes everywhere. It is all perfect–real stonework, real wood, real metal and real leatherwork. You really believe you are here.
Yes, for this preview only about 1/4 of the park is open, but what is open is a thrill. Going into the tavern was like a true LARP-experience. There's a crowd of fantasy characters there, talking with guests and themselves. Unlike the small talk a Disney character might give us on Main Street, the characters here have hours of dialogue memorized and a complete backstory to boot. Talking with them is a hoot and a half. Their costumes (clothing they say to you) is replicated even down to the smallest ornament or tooling. Their makeup (done by the star of SyFy Channel's FaceOff show Logan Long) is spot-on even close-up. I really am talking to a dwarf or hob-goblin.
Wandering over to the Mausoleum there's an entrance to the underground catacombs. Egads! This place, even half-finished, is frightening. Rows and rows of mummies and mildewing monsters in the dark and dank halls just creeped me out. I bet there's going to a few of them that won't be so still come Halloween.
Further on, there's outdoor entertainment with performers doing tricks with flaming torches and the like. There's an archery demonstration going on as well. Plus caves and tunnels–unfilled right now, but sure to have more later on when the park really opens.
Creator Ken Bretschneider has spared no expense, has created every detail to totally envelope you into this world of Medieval and Victorian fantasy. It's incredible. If fantastic adventure has its Disney, his name is Ken B. The possibilities for this place…what with characters that live in this world, with buildings and all the trimmings as they should be.  I cannot wait for the whole park to be finished. This will be the absolute go-to place for anyone who adores the realms of fantasy, horror, and the supernatural.
Note: The preview event took place after 9 p.m., so many details of the Park are lost in the photos. Be assured I'll be getting better shots in the future.
Roaming Creature--This is just one of the many meandering monsters in the park. (They will menace you, but not actually come in contact. ) Those are actual stones and timbers in the building behind the beast–which features real antlers too. The detailing on the leather pieces is wonderful.
Tavern barkeep—Evermore brauhous is called the Crooked Lantern Tavern. All of the characters have a backstory and a good hour or two worth of gab they will share with you if asked. They also interact with the other NPCs as well.  Those are real antique bottles (but simulated spirits) on the shelves.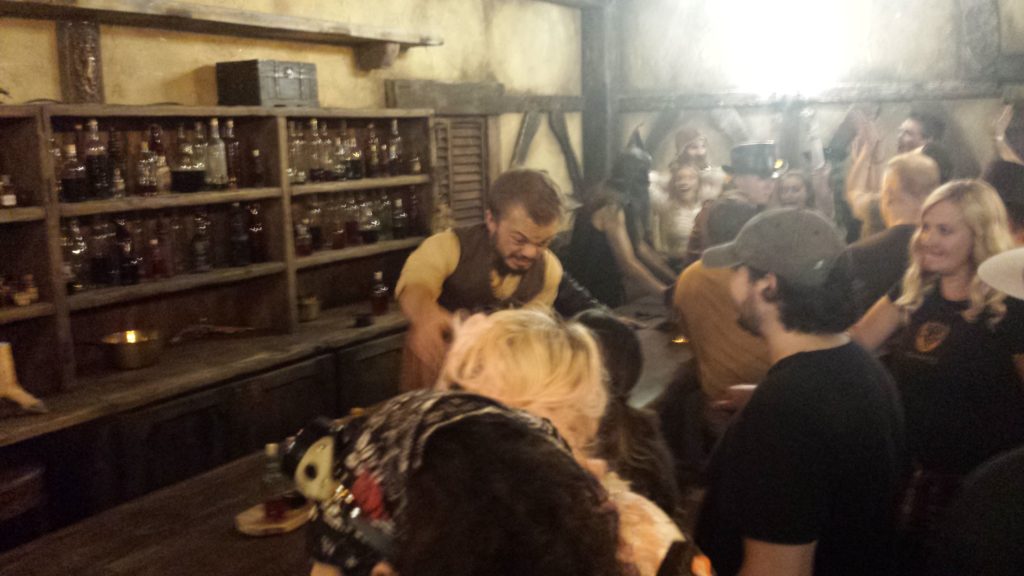 Tavern visitors–Wow! I mean, the detailing that goes into the costumes and in the creature makeup is incredible. Notice too how the table is built just as it would have been long ago. Those are real brass and metal ornaments on the mantle–no repurposed plastic! Same with the real stones in the fireplace.
Meet and Greet--It's cool to meet the creatures. Look at how good the makeup is.
Spooky Atmosphere–Between the building, Ken has made sure both the lighting and the music fits the mood. Eerie fog pours out from hidden ducts…
Ever Boar-ing–I just love this boar's head in the tavern–eye-popping detail even ten feet up the wall. (I would love to have a copy for Freehafer Hall…)
Tavern Patrons–Just look at the level of detail on these costumes! (That's "Griffin" to your left, his real name!) Then there's the old salt with his petrified pet parrot on his shoulder.
Pumpkin Sales-thing–This startled me for a second. I swore this was a real creature lugging all these pumpkins on his back. VERY clever design. The performer made it work perfectly. The barkeep "objected" to it being in there and shooed it out after a yelling and screaming match.
Tavern hostess–The barmaid will sing for you if you ask, or regale you with stories.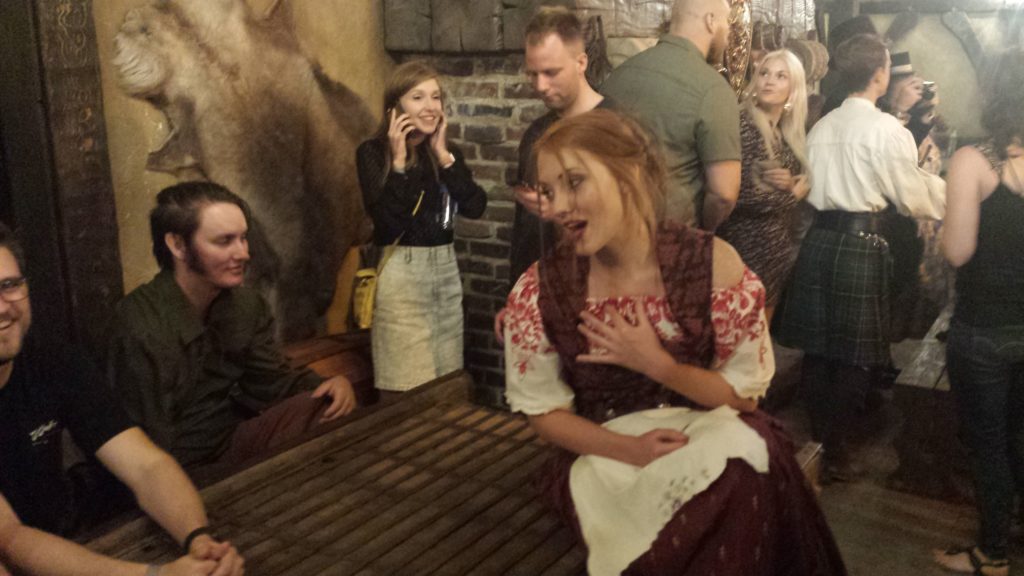 Ken B the Hero–Here he is, Ken Bretschneider, guiding some of us friends around the park. Who says that techies can't turn out to be really, really good guys??
Fire juggling and Fire Performance–At various stations in the park there's continuous live entertainment. This one was fire juggling, scary, scary.
Fireplace Detail–A shot of the tavern from one end. That's real stucco, real brickwork, real stone work.
Bar Staff and stock, More tavern visitors–I love the dwarfish fellow, again the detail on his makeup is wonderful.
Tavern at night–there's real thatch, real trees, real vines…
Giant 20 foot statue –The light on this changes colors. It's colossal. And just decoration!
Main plaza–When you first enter the park, there's this open plaza area with concessions on the left. In the background is the gazebo on the small lake where the narrow gauge train will run (sometime next Spring).
Evermore owl–The park has its own live animal collection. This is one of five owls they have on hand, and it is the smallest (!!) of the bunch. That's my daughter Serena posing.
Creek — This gives you some idea of the complete recreation Evermore is. This is the creek running next to the main entrance with live trees and landscaping. All carefully put together.
Trees at the entrance–This is just the landscaping around the outside walls of Evermore.  That's the unfinished church in the background.
Church in progress–As this was a preview, there's various buildings like the church still under construction.