Finalists in 24 competitive categories for the 2020 Audie Awards, including the Audiobook of the Year, were announced by the Audio Publishers Association (APA) on February 3.
The Audie Awards® recognize excellence in audiobook and spoken word entertainment,. The finalists were selected from over 1300 submissions.
Winners will be revealed at the Audie Awards® Gala on March 2 in New York City.
This year marks the Audie Awards'® 25th Anniversary, which will be celebrated by various events including a special Lifetime Achievement Award honor to bestselling author Stephen King at the Gala.
Categories of genre interest include:
FANTASY
Beasts of the Frozen Sun by Jill Criswell, narrated by Alana Kerr-Collins and Tim Campbell, published by Blackstone Publishing
Black Leopard, Red Wolf by Marlon James, narrated by Dion Graham, published by Penguin Random House Audio
Ninth House by Leigh Bardugo, narrated by Michael David Axtell and Lauren Fortgang, published by Macmillan Audio
The Ten Thousand Doors of January by Alix E. Harrow, narrated by January LaVoy, published by Hachette Audio
Time's Children by D.B. Jackson, narrated by Helen Keeley, published by Dreamscape Media, LLC
SCIENCE FICTION
Emergency Skin by N.K. Jemisin, narrated by Jason Isaacs, published by Brilliance Publishing
Hollow Kingdom by Kira Jane Buxton, narrated by Robert Petkoff, published by Hachette Audio
The Last Astronaut by David Wellington, narrated by Megan Tusing, published by Hachette Audio
The Lesson by Cadwell Turnbull, narrated by Ron Butler and Janina Edwards, published by Blackstone Publishing
Permafrost by Alastair Reynolds, narrated by Natasha Soudek, published by Macmillan Audio
The rest of the finalists follow the jump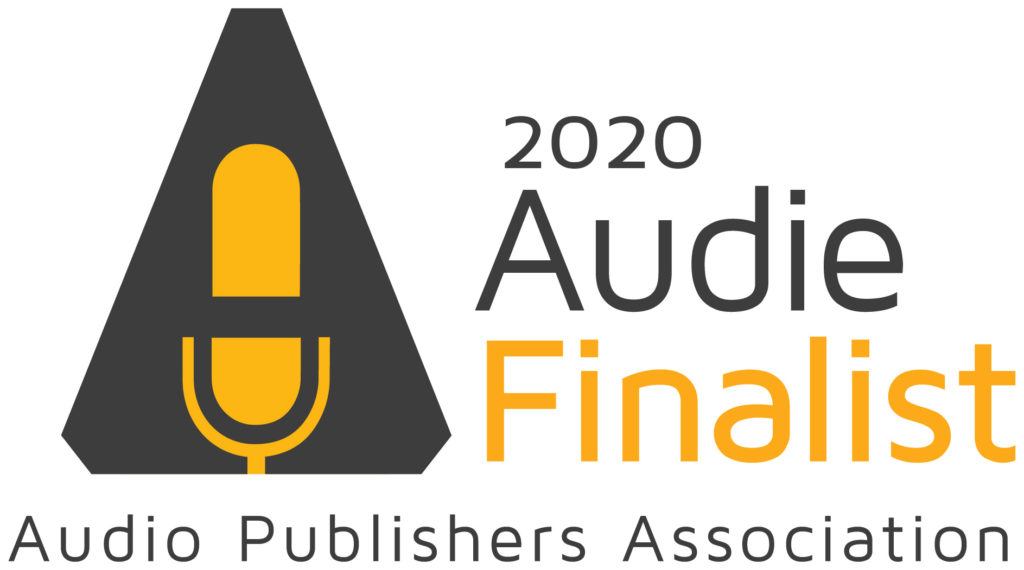 AUDIOBOOK OF THE YEAR
Angels in America: A Gay Fantasia on National Themes by Tony Kushner, narrated by Andrew Garfield, Nathan Lane, Susan Brown, Denise Gough and a full cast, published by Penguin Random House Audio
Becoming, written and narrated by Michelle Obama, published by Penguin Random House Audio
Charlotte's Web by E.B. White, narrated by Meryl Streep and a full cast, published by Penguin Random House Audio
The Dutch House by Ann Patchett, narrated by Tom Hanks, published by HarperAudio
The Only Plane in the Sky: An Oral History of 9/11 by Garrett M. Graff, narrated by a full cast with Holter Graham, published by Simon & Schuster Audio
The Testaments: The Sequel to The Handmaid's Tale by Margaret Atwood, narrated by Ann Dowd, Bryce Dallas Howard, Mae Whitman, Derek Jacobi, Tantoo Cardinal, and Margaret Atwood, published by Penguin Random House Audio
AUDIO DRAMA
The Absolute Brightness of Leonard Pelkey by James Lecesne, performed by James Lecesne, published by Audible Originals
Angels in America: A Gay Fantasia on National Themes by Tony Kushner, performed by Andrew Garfield, Nathan Lane, Susan Brown, Denise Gough, Beth Malone, James McArdle, Lee Pace, Nathan Stewart-Jarrett, Bobby Cannavale, and Edie Falco, published by Penguin Random House Audio
Birthday Suit by Lauren Blakely, performed by Andi Arndt, Sebastian York, January LaVoy, Julia Whelan, R.C. Bray, Shane East, Joe Arden, Erin Mallon, Dion Graham, Savannah Peachwood, Jason Clarke, and Robin Miles, published by Lauren Blakely Books
Have a Nice Day by Billy Crystal and Quinton Peeples, performed by Justin Bartha, Annette Bening, Dick Cavett, Auli'l Cravalho, Billy Crystal, Rachel Dratch, Darrell Hammond, Christopher Jackson, Kevin Kline, Robin Thede, and a full cast, published by Audible Originals
Puss in Boots by Neil Fishman, Harvey Edelman, and Khristine Hvam, performed by Jim Dale, Mark Aldrich, Barret Leddy, Nick Sullivan, Brian Holden, Al Fallick, Lisa Livesay, Meredith Inglesby, Lynn Norris, John E. Brady, and Johnny Heller, published by HarperAudio
AUTOBIOGRAPHY/MEMOIR
Becoming, written and narrated by Michelle Obama, published by Penguin Random House Audio
From Scratch, written and narrated by Tembi Locke, published by Simon & Schuster Audio
Me: Elton John Official Autobiography by Elton John, narrated by Taron Egerton and Elton John, published by Macmillan Audio
MotherStruck!, written and narrated by Staceyann Chin, published by Audible Originals
Too Much Is Not Enough: A Memoir of Fumbling Toward Adulthood, written and narrated by Andrew Rannells, published by Penguin Random House Audio
BEST FEMALE NARRATOR
All the Lost Things by Michelle Sacks, narrated by Cassandra Morris, published by Hachette Audio
The Boy by Tami Hoag, narrated by Hillary Huber, published by Brilliance Publishing
Nothing to See Here by Kevin Wilson, narrated by Marin Ireland, published by HarperAudio
Prime Suspect by Lynda La Plante, narrated by Rachel Atkins, published by Zaffle
The Ten Thousand Doors of January by Alix E. Harrow, narrated by January LaVoy, published by Hachette Audio
BEST MALE NARRATOR
The Dutch House by Ann Patchett, narrated by Tom Hanks, published by HarperAudio
Everything Is Illuminated by Jonathon Safran Foer, narrated by Robert Petkoff, published by Houghton Mifflin Harcourt
Kingdom of the Blind by Louise Penny, narrated by Robert Bathurst, published by Macmillan Audio
The Nickel Boys by Colson Whitehead, narrated by JD Jackson, published by Penguin Random House Audio
Watership Down by Richard Adams, narrated by Peter Capaldi, published by Blackstone Publishing
BUSINESS/PERSONAL DEVELOPMENT
The Barefoot Spirit by Michael Houlihan, Bonnie Harvey, and Rick Kushman, narrated by Alamada Karatihy and a full cast featuring Ed Asner, published by Footnotes Press
Calm the F*ck Down, written and narrated by Sarah Knight, published by Hachette Audio
Nine Lies About Work: A Freethinking Leader's Guide to the Real World, written and narrated by Marcus Buckingham and Ashley Goodall, published by Gildan Media, a division of Recorded Books
So You Want to Start a Podcast?, written and narrated by Kristen Meinzer, published by HarperAudio
Wolfpack, written and narrated by Abby Wambach, published by Macmillan Audio
FAITH-BASED FICTION & NON-FICTION
Breathe Again, written and narrated by Niki Hardy, published by Oasis Audio
Conscious, written and narrated by Annaka Harris, published by HarperAudio
Dare to See, written and narrated by Katie Brown, published by Hachette Audio
How the Light Gets In by Jolina Petersheim, narrated by Tavia Gilbert, published by Oasis Audio
Jezebel: The Prequel by Jacquelin Thomas, narrated by Janina Edwards, published by The Audio Flow LLC
FICTION
The Age of Light by Whitney Scharer, narrated by Therese Plummer, published by Hachette Audio
Cilka's Journey by Heather Morris, narrated by Louise Brealey, published by Macmillan Audio
City of Girls by Elizabeth Gilbert, narrated by Blair Brown, published by Penguin Random House Audio
Colombiano by Rusty Young, narrated by Rusty Young and Brian J. Ramos, published by Bolinda Publishing
The House We Grew Up In by Lisa Jewell, narrated by Karina Fernandez, published by Dreamscape Media
HISTORY/BIOGRAPHY
American Moonshot by Douglas Brinkley, narrated by Stephen Graybill, published by HarperAudio
The First Conspiracy by Brad Meltzer and Josh Mensch, narrated by Scott Brick, published by Macmillan Audio
Furious Hours: Murder, Fraud, and the Last Trial of Harper Lee by Casey Cep, narrated by Hillary Huber, published by Penguin Random House Audio
The Queen by Josh Levin, narrated by January LaVoy, published by Hachette Audio
Theodore Roosevelt for the Defense by Dan Abrams and David Fisher, narrated by Roger Wayne and Dan Abrams, published by Harlequin
HUMOR
Dear Girls: Intimate Tales, Untold Secrets & Advice for Living Your Best Life by Ali Wong, narrated by Ali Wong and Justin Hakuta, published by Penguin Random House Audio
Idiot, written and narrated by Laura Clery, published by Simon & Schuster Audio
More Bedtime Stories for Cynics by Kirsten Kearse, Gretchen Enders, Aparna Nancherla, Cirocco Dunlap, and Dave Hill, narrated by Nick Offerman, Patrick Stewart, Alia Shawkat, Ellen Page, Jane Lynch, John Waters, Anjelica Huston, Wendell Pierce, Mike Birbiglia, Rachel Dratch, Matt Walsh, Nicole Byer, Harry Goaz, Aisling Bea, and Gary Anthony Williams, published by Audible Originals
Riding the Elephant: A Memoir of Altercations, Humiliations, Hallucinations, and Observations, written and narrated by Craig Ferguson, published by Penguin Random House Audio
A Woman First: First Woman, written and narrated by Selina Meyer, published by Penguin Random House Audio
LITERARY FICTION & CLASSICS
Milkman by Anna Burns, narrated by Brid Brennan, published by Dreamscape Media
Mythos, written and narrated by Stephen Fry, published by Chronicle Books
The Night Tiger, written and narrated by Yangsze Choo, published by Macmillan Audio
Red at the Bone by Jacqueline Woodson, narrated by Jacqueline Woodson, with Quincy Tyler Bernstine, Peter Francis James, Shayna Small, and Bahni Turpin, published by Penguin Random House Audio
The Water Dancer by Ta-Nehisi Coates, narrated by Joe Morton, published by Penguin Random House Audio
MIDDLE GRADE
Charlotte's Web by E.B. White, narrated by Meryl Streep and a full cast, published by Penguin Random House Audio
New Kid by Jerry Craft, narrated by Jerry Craft, Jesus Del Orden, Nile Bullock, Robin Miles, Guy Lockard, Peyton Lusk, Rebecca Soler, Dan Bittner, Phoebe Strole, Marc Thompson, Miles Harvey, and Ron Butler, published by HarperAudio
Our Castle by the Sea, written and narrated by Lucy Strange, published by Scholastic Audio
Roller Girl by Victoria Jamieson, narrated by Almarie Guerra and a full cast, published by Penguin Random House Audio
The Remarkable Journey of Coyote Sunrise by Dan Gemeinhart, narrated by Khristine Hvam, published by Macmillan Audio
MULTI-VOICED PERFORMANCE
200 Women by Geoff Blackwell, Ruth Hobday, Sharon Gelman, Marianne Lassandro, and Kieran Scott, narrated by a full cast, published by Chronicle Books
Daisy Jones & The Six by Taylor Jenkins Reid, narrated by Jennifer Beals, Benjamin Bratt, Judy Greer, Pablo Schreiber, and a full cast, published by Penguin Random House Audio
Dooku: Jedi Lost (Star Wars) by Cavan Scott, narrated by Orlagh Cassidy, Euan Morton, Marc Thompson, Pete Bradbury, Jonathan Davis, Neil Hellegers, Sean Kenin, January LaVoy, Saskia Maarleveld, Carol Monda, Robert Petkoff, and Rebecca Soler, published by Penguin Random House Audio
Hey, Kiddo by Jarrett J. Krosoczka, narrated by Jarrett J. Krosoczka, Jeanne Birdsall, Richard Ferrone, Jenna Lamia, and a full cast, published by Scholastic Audio
The Only Plane in the Sky: An Oral History of 9/11 by Garrett M. Graff, narrated by a full cast with Holter Graham, published by Simon & Schuster Audio
MYSTERY
Along Came a Spider (25 anniversary edition) by James Patterson, narrated by Taye Diggs, published by Hachette Audio
The Boy by Tami Hoag, narrated by Hillary Huber, published by Brilliance Publishing
The Chestnut Man by Søren Sveistrup, narrated by Peter Noble, published by HarperAudio
The Lost Man by Jane Harper, narrated by Stephen Shanahan, published by Macmillan Audio
The New Iberia Blues by James Lee Burke, narrated by Will Patton, published by Simon & Schuster Audio
NARRATION BY THE AUTHOR or AUTHORS
Becoming, written and narrated by Michelle Obama, published by Penguin Random House Audio
Inside Out, written and narrated by Demi Moore, published by HarperAudio
Madame Badobedah, written and narrated by Sophie Dahl, published by Bolinda Publishing
Shortest Way Home: One Mayor's Challenge and a Model for America's Future, written and narrated by Pete Buttigieg, published by HighBridge Audio, a division of Recorded Books
Tough Love, written and narrated by Susan Rice, published by Simon & Schuster Audio
With the Fire on High, written and narrated by Elizabeth Acevedo, published by HarperAudio
NON-FICTION
Grace Will Lead Us Home by Jennifer Berry Hawes, narrated by Karen Chilton and Jennifer Berry Hawes, published by Macmillan Audio
Mama's Last Hug: Animal Emotions and What They Tell Us About Ourselves by Frans de Waal, narrated by L.J. Ganser, published by Recorded Books
The Perfect Predator by Steffanie Strathdee, Thomas Patterson, and Teresa Barker, narrated by Christine Lakin with Dan Woren, published by Hachette Audio
Talking to Strangers, written and narrated by Malcolm Gladwell, published by Hachette Audio
We Are the Weather, written and narrated by Jonathan Safran Foer, published by Macmillan Audio
ORIGINAL WORK
Evil Eye by Madhuri Shekar, narrated by Nick Choksi, Harsh Nayaar, Annapurna Sriram, Bernard White, and Rita Wolf, published by Audible Originals
I Eat Men Like Air by Alice Berman, narrated by Elizabeth Evans, published by Audible Originals
Lustily Ever After: The Audiobook Musical by Stephanie Bentley and Miranda Ray, narrated by Stephanie Bentley, Carolyn Jania and Henry Kaiser, with additional vocals from Christiana Lynette and Aaron Wilson, published by ACX
Nevertheless We Persisted: Me Too, written and performed by a chorus of voices, published by Blunder Woman Productions
Our Harlem: Seven Days of Cooking, Music and Soul at the Red Rooster by Marcus Samuelsson, narrated by Marcus Samuelsson, published by Audible Originals
ROMANCE
The Bride Test by Helen Hoang, narrated by Emily Woo Zeller, published by Dreamscape Media
Devil's Daughter by Lisa Kleypas, narrated by Mary Jane Wells, published by HarperAudio
The Friend Zone by Abby Jimenez, narrated by Teddy Hamilton and Erin Mallon, published by Hachette Audio
Gimme Some Sugar by Molly Harper, narrated by Amanda Ronconi, published by Audible Studios
Red, White & Royal Blue by Casey McQuiston, narrated by Ramon de Ocampo, published by Macmillan Audio
SHORT STORIES/COLLECTIONS
Evidence of the Affair by Taylor Jenkins Reid, narrated by Julia Whelan, George Newbern, James Daniels, and Dara Rosenberg, published by Brilliance Publishing
Forward by Veronica Roth, Blake Crouch, N.K. Jemisin, Amor Towles, Paul Tremblay, and Andy Weir, narrated by Evan Rachel Wood, Rosa Salazar, Jason Isaacs, David Harbour, Steven Strait, and Janina Gavankar, published by Brilliance Publishing
Full Throttle by Joe Hill, narrated by Zachary Quinto, Wil Wheaton, Kate Mulgrew, Neil Gaiman, Ashleigh Cummings, Joe Hill, Laysla De Oliveira, Nate Corddry, Connor Jessup, Stephen Lang, and George Guidall, published by HarperAudio
I'm Telling the Truth But I'm Lying, written and narrated by Bassey Ikpi, published by HarperAudio
Kabu Kabu by Nnedi Okorafor and Whoopi Goldberg (foreword), narrated by Yetide Badaki, published by Tantor Audio, a division of Recorded Books
THRILLER/SUSPENSE
Blood in the Water by Jack Flynn, narrated by Dion Graham, published by Recorded Books
Freefall by Jessica Barry, narrated by Hillary Huber, Karissa Vacker, and MacLeod Andrews, published by HarperAudio
The Institute by Stephen King, narrated by Santino Fontana, published by Simon & Schuster Audio
Lady in the Lake by Laura Lippman, narrated by Susan Bennett, published by HarperAudio
Winter Dark by Alex Callister, narrated by Ell Potter, published by Audible Originals
YOUNG ADULT
Hey, Kiddo by Jarrett J. Krosoczka, narrated by Jarrett J. Krosoczka, Jeanne Birdsall, Richard Ferrone, Jenna Lamia, and a full cast, published by Scholastic Audio
Like a Love Story by Abdi Nazemian, narrated by Lauren Ambrose, Vikas Adam, and Michael Crouch, published by HarperAudio
Lovely War by Julie Berry, narrated by Jayne Entwistle, Allan Corduner, Julie Berry, Dion Graham, Fiona Hardingham, John Lee, Nathaniel Parker, and Steve West, published by Penguin Random House Audio
On the Come Up by Angie Thomas, narrated by Bahni Turpin, published by HarperAudio
With the Fire on High, written and narrated by Elizabeth Acevedo, published by HarperAudio
YOUNG LISTENERS (up to age 8)
How to Read a Book, written and narrated by Kwame Alexander, published by HarperAudio
The Lion King by Elizabeth Rudnick and Disney Press, narrated by Janina Edwards, published by Blackstone Publishing
The Pigeon HAS to Go to School!, written and narrated by Mo Willems, published by Weston Woods
Rumple Buttercup: A Story of Bananas, Belonging, and Being Yourself, written and narrated by Matthew Gray Gubler, published by Penguin Random House Audio
We Are Grateful: Otsaliheliga by Traci Sorell, narrated by Lauren Hummingbird, Agalisiga (Choogie) Mackey, Ryan Mackey, Traci Sorell, and Tonia Weavel, published by Live Oak Media
The Word Collector by Peter H. Reynolds, narrated by Guy Lockard, published by Weston Woods
[Via Locus Online.]