By Mike Glyer: Longtime Ohio fan Frank Olynyk died February 24 at the age of 79. Frank, who attended Worldcons for over 50 years, was an inveterate con photographer who contributed scores of pictures to Fanac.org. He also subscribed to File 770 for decades, generously allowed me to publish some of his photos, and sent items for the daily Scroll.
Frank Olynyk was born in Toronto of Canadian parents, but raised in Cleveland, Ohio. He stayed in the city to get his college education at Case Institute of Technology (renamed after a merger Case Western Reserve University). He took a Masters in Computer Engineering, writing a thesis entitled "The Intertranslation of Algol and Fortran", and received his PhD in Computer Science at Case Western Reserve University in 1969.
How early did Frank find fandom? Early enough to have his birthdate listed in the 1976 edition of Bruce Pelz' Fan Birthday Calendar. Early enough to be listed as a member in the 1969 St. LouisCon Worldcon Program Book — the earliest one of many in which his name appears (or probably could appear since before then Program Books were rare and usually did not run membership lists.)
The family obituary says after completing his education he obtained his U.S. citizenship, then went to work at Chi Corporation, which Case Western had created to handle their computer needs. There he was a computer systems programmer, technical developer, and senior manager for almost 30 years. One of his first responsibilities was creating the Fortran compiler, which translated software code into usable machine code. As one person remembers, Frank was "Truly an inventive genius, he was a very bright individual and major contributor to Chi's success."
As a fan, Frank attended many conventions that he documented as a photographer. Notably, along the way, he also spent two years collecting the signatures of all 31 women dedicatees of Robert A. Heinlein's Friday and presented the signed copy of the book to Heinlein for his birthday in 1986.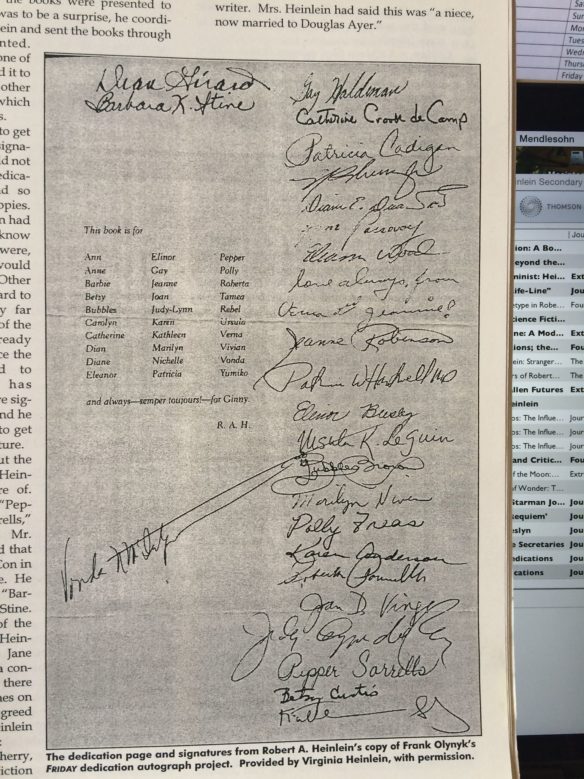 Active as he was in fandom, that interest was dwarfed by his work researching original military records and publishing books on the topic of fighter pilots of the world, their aircraft and squadrons. His goal was to establish all who were "Aces", pilots credited with destroying five or more enemy aircraft in air-to-air combat.
American Fighter Aces Association officers state that "Frank Olynyk was the world's most knowledgeable historian regarding the fighter aces of the world; his volumes of U.S., and some British, aerial victory credits far exceed anything produced by officialdom; he will be irreplaceable."
Frank Olynyk's 700-page book Stars and Bars: A Tribute to the American Fighter Ace, 1920-1973 was published in 1995, a concise list of the 1,301 U.S. Aces credited with five victories, along with photos and bios. It soon sold out, and was never reprinted, although Frank kept constantly researching and updating his databases.
After Stars and Bars, Frank began a years-long collaboration with prolific air-wars author Chris Shores of Great Britain. An ambitious series of six volumes entitled A History of the Mediterranean Air War, 1940-1945 was published starting in 2008, involving several co-authors, and the final volume will be published in 2023.
Additionally, Frank took it upon himself to organize an Aces page linked to Find-a-Grave.
Olynyk was of Ukranian descent. Mindful of the date he died – February 24 — the family obituary comments that "it is ironic that this was the evening of the apocalyptic invasion of the Ukraine by Russian forces."
[Thanks to Rick Kovalcik for the story.]
Update 06/15/2022: Added photos of Frank Olynyk taken by Andrew Porter at DisCon III in December 2021.