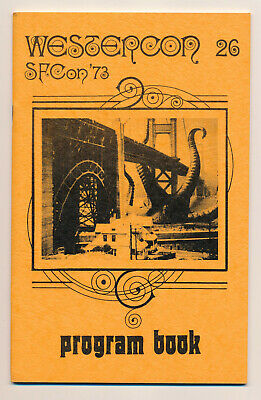 Westercon, created in 1947, and which in its heyday drew a couple thousand fans, is held in a Western North American city – if one wants to hold it. Which right now is the problem.
In April, the 2021 Seattle Westercon announced it had disbanded. The Los Angeles Science Fantasy Society, stewards of the Westercon service mark, said they will hold a Westercon business meeting and conduct 2023 site selection at Loscon 47 in November. Originally, there was an unopposed 2023 bid for Tempe, but they withdrew last week.
The situation is made even stickier because the April 15 deadline for filing to be on the Westercon site selection ballot has passed and cannot be extended under the Westercon Bylaws. However, Kevin Standlee, Westercon 73 Business Meeting Chair, explained in a post at Westercon.org it is still possible for groups interested in hosting Westercon 75 to file as a write-in bid up to the close of voting at Loscon – which will be open only on Friday, November 26, 2021, and is scheduled to close at 8 p.m. Pacific Time on that day. So no bids will be listed on the ballot, but write-in bids will be allowed. Standlee describes the process in full here.
Should no bid be selected through the site selection voting process, the Westercon Business Meeting can select a site by a three-fourths vote. If they don't, it's then up to the LASFS Board of Directors to select a site.
Standlee's condensed version of these options is:
Site Selection will continue with write-in bids only.
Site Selection voting will be on Friday only, but will stay open later than usual (8 p.m.)
Any group that files the usual paperwork is eligible to win as a write-in.
If no eligible group wins, then the Business Meeting on Saturday (time TBA) can select a site.
If the Business Meeting cannot decide, then LASFS decides.