The Palm Restaurant has reopened at its new location in Beverly Hills but the 2,500 celebrity caricatures once on the walls at the old West Hollywood address did not make the trip. At least most of them. Gene Roddenberry and leading men of Star Trek are among those who didn't beam over.
A private room in the back named the Regal Beagle after the pub in Three's Company displays a few framed sections of caricatures salvaged from the old site, including Henry Winkler, Sammy Davis Jr., Natalie Wood, and Robert Wagner. But that's about it.
Bruce Bozzi Jr., co-owner of the Beverly Hills watering hole, is the great-grandson of Pio Bozzi, who along with John Ganzi co-founded the original Palm in New York. He says of the new site, "We wanted to update the look and feel, but still stay true to our speakeasy roots in New York City."
The Palm Restaurant opened in new York in 1926, near the headquarters of the King Features Syndicate, and the place attracted a lot of cartoonists who drew their own creations on the walls in exchange for their meals.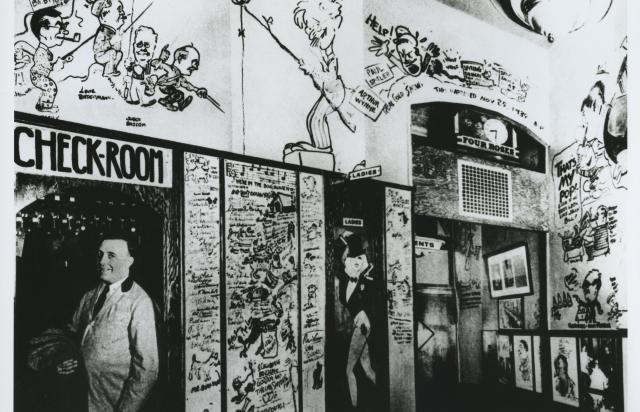 Since then, the flagship Palm has become a living museum of cartoons and caricatures featuring such famous faces as Popeye, Batman, Beetle Bailey, Hagar the Horrible, and characters from "The Family Circus." To preserve these legendary hand-drawn sketches – many of which were drawn in charcoal and pastels – the Palm's walls were professionally restored in 1995.
Now the Palm has many locations, and before each opened, the likenesses of 200 to 300 local notables were placed on the walls. However, the owners of the Beverly Hills site seem to be taking it slow when it comes to following that tradition.