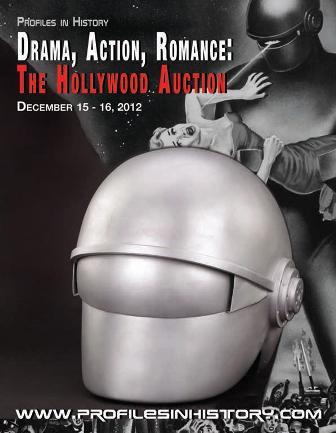 It never occurred to me that Gort would stop needing his head. I always visualized Gort leaving with Klaatu in the spaceship on their way to some indefinite eternity.
But in those pre-CGI days there was an actor inside and doubtless when the camera stopped rolling he was eager to take off the stifling thing. He might have been more insistent on keeping his prop head if he knew it would one day sell for $150,000, as it did last December 15 at Profiles in History's Hollywood Auction.
The catalog describes Gort's head in loving detail —
In the sequences when Gort moves, he was portrayed by 7 ft., 7 in.-tall actor Lock Martin wearing a thick foam-rubber suit designed and built by Addison Hehr. Constructed of fiberglass and metal, the robot's massive head measures 14 in. tall x 13 ¼ in. wide x 17 in. long. A trio of 8 ¼ in. metal supports are bolted to the fiberglass skull cap that fitted to Lock Martin's head, enabling the robot to appear even taller. Nine distinctive air holes are crafted beneath the robot's chin, allowing Martin to breathe. The helmet has been expertly repainted, and the original wooden earpieces were reassembled and accompany the lot. Replacement ear pieces, identical in appearance, were installed for longevity. The missing visor was accurately replaced in hand-crafted aluminum by a master armorer using visual reference from studio photo stills.
Surprisingly (to me), a full-scale, screen-used T-800 Endoskeleton from Terminator 2: Judgment Day fetched just as much — $150,000.
And selling for more than those two items combined was Orlando Bloom's "Legolas" Lothlorien bow from The Lord of the Rings trilogy, for a bid of $310,000.
There were many, many items of exceptional science fictional interest. To name only a few —
A jumpsuit from Men Into Space brought $4,000 and Erin Gray's "Wilma Deering" uniform from Buck Rogers In The 25th Century sold for $1,500.
Lots of uniform pieces from the original Star Trek series went on the block – a "Spock" tunic was bid up to $95,000. Prime stuff from other Star Trek series brought good prices, such as Levar Burton's "Geordie" Hero Visor from ST:TNG which went for $7,000.
Numerous valuable posters changed hands, including a French King Kong poster, $20,000, a Day The Earth Stood Still 3-sheeter, $6,000 and a Godzilla 3-sheeter, $3,000.
A screen-used X-wing fighter filming miniature from Star Wars: Episode IV – A New Hope commanded $225,000.
Weapons were popular, most of all the iconic items like Harrison Ford's "Indiana Jones" Hero Pistol from Raiders of the Lost Ark, $25,000, and "Hagrid's" Hero Crossbow from Harry Potter, $25,000.
If you're curious, the catalog is still available online here [38MB PDF file]. So is a press release with the full list of Prices Realized [PDF file].