Steve Haffner, The Big Poobah of Haffner Press, has slashed the price on seven unique collections of great sf in a special sale lasting through August 6.
The magnificent seven authors who wrote or edited these works are back in the spotlight thanks to fresh reviews or Retro Hugo award nominations.
Haffner is offering the following seven titles at a 40% discount until August 6, to those who buy a minimum of four books per order (you may order multiple copies of the same title).
Shannach – The Last: Farewell to Mars by Leigh Brackett (introduction by Anne McCaffrey). Brackett was inducted into the Science Fiction Hall of Fame in 2014. And she was a topic of author Howard Andrew Jones' blog.
The Universe Wreckers, The Collected Edmond Hamilton, Volume Three. Edmond Hamilton's effort, Reign of the Robots, was reviewed in the September issue of Asimov's. Hamilton's comic book work was highlighted in Back Issue #74.
Detour To Otherness by C.L. Moore & Henry Kuttner (foreword by Frederik Pohl; introduction by Robert Silverberg). Moore's Judgment Night was blogged at SF Mistressworks.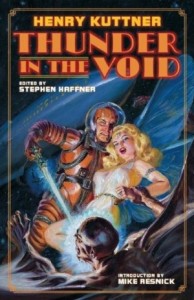 Thunder in the Void by Henry Kuttner (introduction by Mike Resnick). Kuttner's "The Time Trap" is up for a Retro Hugo Award (and is available in this collection).
The Worlds of Jack Williamson: A Centennial Tribute (1908-2008) by Jack Williamson. Edited by Stephen Haffner, (foreword by Frederik Pohl, introduction by James Gunn).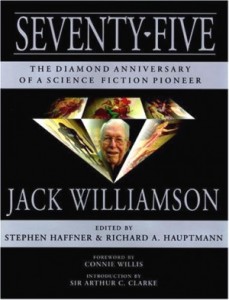 Seventy-Five: The Diamond Anniversary of a Science Fiction Pioneer Jack Williamson. Edited by Richard A. Hauptmann and Stephen Haffner. (Introduction by Sir Arthur C. Clarke.)
Jack Williamson's The Legion of Time has also been nominated for a Retro Hugo Award for Best Novel (the 1938 magazine version is in Haffner's Spider Island, The Collected Stories of Jack Williamson, Volume Four — introduction by Edward R. Bryant – which is not on sale, but feel free to buy it anyway…)
Tales From Super-Science Fiction edited by Robert Silverberg. Super-Science Fiction, launched during one of the cyclic sf booms of the 1950s, was notable for paying 2 cents a word, then a top rate — enough to lure contributions from legendary pros like Isaac Asimov, Robert Bloch, Jack Vance, and newcomers on their way to being famous like Harlan Ellison and Donald Westlake.
Shipping via Media Mail is $2.00 per book.