Hallmark's 2015 line of science fictional Keepsake Ornaments includes one of the most grotesque ever offered.
It's the Star Trek II: The Wrath of Khan™ Mr. Spock and Captain Kirk The Needs of the Many Ornament goes for $29.95.
The needs of the many outweigh the needs of the few…or the one. Press the button on this Keepsake Ornament to hear the final farewell between Captain Kirk and Spock, who gave his life to save the U.S.S. Enterprise.
Click to hear the actors' dialogue.
Merely bizarre is the Star Wars ™: The Empire Strikes Back ™ There Is No Try Yoda ™ and Luke Skywalker ™ Ornament priced at $32.95.
As one of the greatest Jedi Masters in galactic history, Yoda™ did not believe in "try." Press the button to hear the diminutive warrior and the young Luke Skywalker™ in an unforgettable scene from Star Wars™:
Listen to Yoda's advice here.
That Hallmark is counting on Darth Vader for comic relief tells you all you need to know about corporate America. Check out the Star Wars ™ Holiday Darth Vader ™ Ornament.
This Keepsake Ornament features Darth Vader™ in a Christmas sweater and Santa hat. Come close to the tree: The Dark Lord ornament will sense your movement and deliver a Christmas message.
Visit the product page to watch Darth's demostration video. These are the jokes, Jedi!
Apart from these gag gifts, there are Keepsake Ornaments fans will enjoy receiving.
The Star Wars ™ : A New Hope C-3PO ™ and R2-D2 ™ Ornament ($17.95).
This permanently bickering yet inseparable pair of mechanical droids proved their loyalty to their Rebel friends throughout the Galactic Civil War, and even saved the day a time or two. Now, C-3P0™ and R2-D2™ are back as the 19th installment of the Keepsake series as seen in "Star Wars™: A New Hope™."
The Star Trek ™ Lieutenant Nyota Uhura™ Ornament ($14.95).
As communications officer aboard the U.S.S. Enterprise, the sharp, dependable Lieutenant Nyota Uhura finds herself to be the sixth ornament in the Star Trek Legends series.
The Marvel Avengers: Age of Ultron Iron Man Ornament ($14.95)
He lives! He walks! He conquers! When eccentric billionaire inventor Tony Stark suits up in his armor as the invincible Iron Man, he is unstoppable.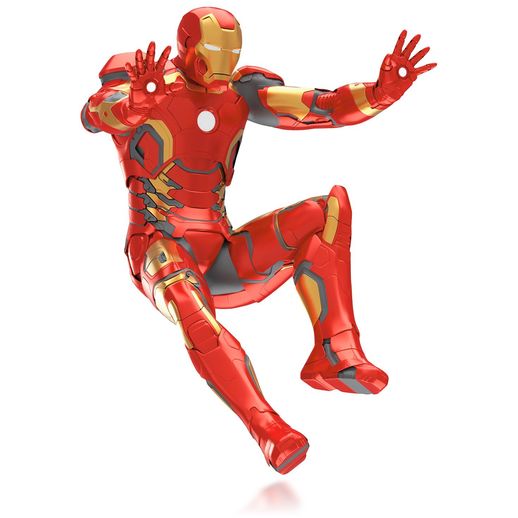 See even more science fictional and pop culture references at Hallmark's Keepsake Ornaments site.
[Thanks to David Doering for the story.]