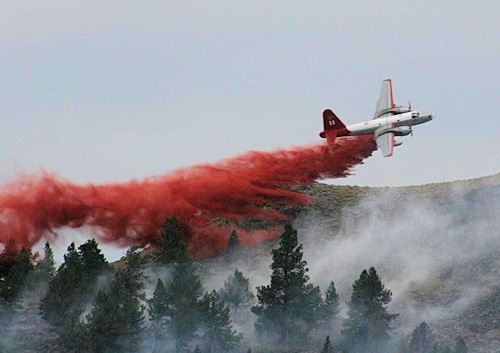 In California this year's Christmas trees are still standing on hillsides in hundred degree heat, waiting for firefighting airplanes to cover them in season-appropriate red fire retardant.
Hallmark, on the other hand, believes midsummer is the perfect time to sell fans collectible tree ornaments. You can buy them beginning July 9.
Profit is always the "reason for the season," and in 2016 Hallmark's golden touch is symbolized by the Star Trek™ U.S.S. Enterprise™ 50th Anniversary Edition Musical Ornament. Only $32.95.
Based on the series' pilot episode, this gold-hued Enterprise ornament lets you hear Captain Kirk's monologue and the iconic music from the opening credits of the Star Trek TV series!
However, the prize-winner for Clashing Most With The Holiday Spirit prize is Star Trek™ "The Man Trap" Kirk and Salt Monster Ornament With Sound" — which plays the horrific dialogue from this scene. (You can listen at the link.) Though wouldn't George Clayton Johnson have been amused to see his script adapted as a tree ornament? I suspect so. Price $29.95.
Nor has Hallmark fallen behind in exploiting that other huge science fiction franchise. Consider this Star Wars™: The Force Awakens™ Han Solo™ Ornament, highly affordable at $15.95, perhaps because it barely looks anything at all like Harrison Ford.
Far more collectible is the Star Wars ™: A New Hope ™ Royal or Rebel? Vader and Leia Ornament With Sound:
In a show of bravery and defiance, Princess Leia Organa™ claims to be on a diplomatic mission, but Darth Vader™ knows she is part of the Rebel Alliance and a traitor. Relive this memorable scene with stunning detail and sound at the push of a button.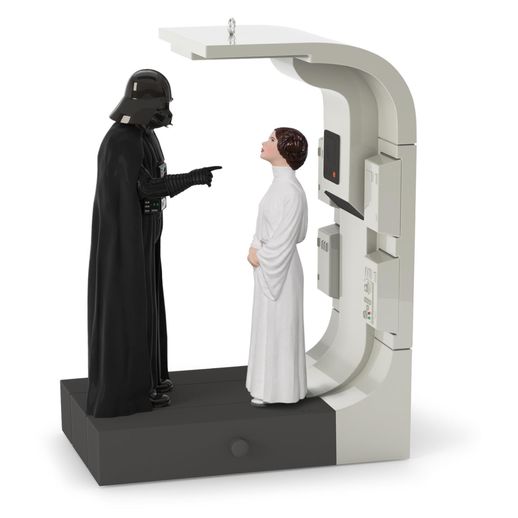 Also, Star Wars™: The Force Awakens™ T-70 X-Wing™ Fighter Ornament With Sound, the most heavily trademarked Christmas decoration in the arsenal.
Go in full throttle! With its double-layered wings in the open "X" position, Poe Dameron's Resistance starfighter is ready to face the forces of the evil First Order. Authentic movie battle sounds put you right in the middle of the action.
Fans of other movies better watch out, they better not cry, because the Alien Queen from Aliens Ornament is coming to town.
This extraterrestrial queen became one of the most iconic aliens in sci-fi film history. Now, she can be yours in the safest way possible—hanging from your Christmas tree.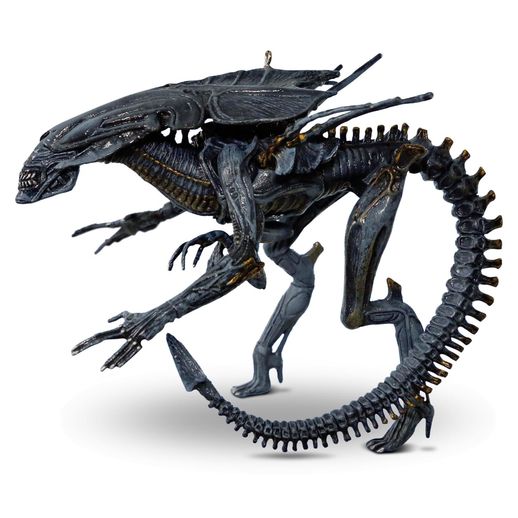 Then there's Captain America: Civil War Team Captain America Ornament, an image so heroic it needs Cap's name in there twice.
And the pinnacle of this year's line is the Star Wars™ Death Star Tree Topper With Lights for $99.95. I know seeing that made me want to say the savior's name, if not in a reverent way.
That's no moon—it's the ultimate tree topper for any Star Wars™ fan. Expertly crafted to resemble the Empire's armored space station, this Death Star's design won't pull you in with a tractor beam, but it will capture your attention with its awesome light and sound features! Included remote control features the iconic Imperial insignia crest. Learn more about Keepsake Ornaments….
As for sound, not "O, Little Town of Bethlehem" or even "We Three Kings of Orient Are":
Press button on remote control (included) to see Death Star™ illuminate and hear the Star Wars: Main Title and The Imperial March….