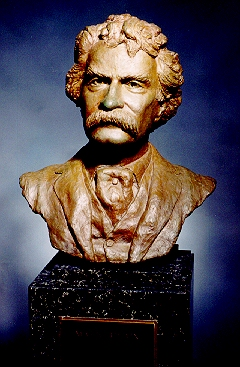 Born November 30, 1835: Samuel Langhorne Clemens. (Robert Heinlein's neighbor at the Missouri Hall of Fame.)
They're celebrating the famed writer's birthday at the Old Farmer's Almanac with 10 fascinating bits of biographical trivia. Here's my favorite.
Three

Sam Clemens tried out several pseudonyms, including Rambler, W. Epaminondas Adrastus Blab, and Josh, before settling on Mark Twain (the phrase used by Mississippi River steamboat crews when measuring water depth).
[Thanks to John King Tarpinian for the link.]