Robert A. Heinlein would no doubt be pleased with the idea of being the latest addition to a Hall of Fame whose first member was Mark Twain — a strong possibility since he is leading the field in voting for 2013 additions to the Missouri Hall of Fame.  Voting ends October 31. Track the results here.
If selected, he will join a wildy varied pantheon already inhabited by Rush Limbaugh, Sacajawea, Walt Disney, Laura Ingalls Wilder, Josephine Baker, Scott Joplin, Dred Scott and Emmett Kelly.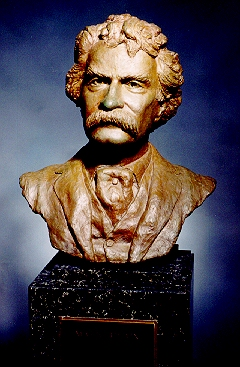 The Missouri Hall of Fame was established in 1982 with the induction of Samuel Langhorne Clemens (Mark Twain). All previous additions were made by the Speaker of the Missouri House of Representatives. This year, for the first time, voters in an online poll will pick two inductees from a slate of 10 nominees, while Speaker Tim Jones will choose a third. Speaker Jones denies the rules change has anything to do with protests about last year's choice, Rush Limbaugh.
Heinlein's citation on the ballot reads:
Born in Butler, Missouri, Robert A. Heinlein is considered one of the greatest American Science Fiction writers of the 20th century. A famous and bestselling author in later life, he graduated from Annapolis and served in the Navy before being forced to retire because of tuberculosis. Heinlein's most famous works include the Future History series, Starship Troopers, Stranger in a StrangeLand, and The Moon is a Harsh Mistress.
I find it interesting how many 2013 nominees for the Missouri Hall of Fame are strongly aligned with political and cultural views that were anathema to your average Missourian – not only during the nominee's lifetime, but a lot more recently than that.
Sue Shear served 26 years in the Missouri House of Representatives and is best known for her very first bill — introducing the Equal Rights Amendment in 1973 — which she reintroduced every year until 1982 when the ratification deadline passed.
John Brooks Henderson was a United States Senator from Missouri and a co-author of the Thirteenth Amendment permanently prohibiting slavery in the United States.
Virginia Minor launched the woman suffrage movement in Missouri in 1866.
Obviously, the Hall of Fame says as much about the state's aspirations as its past.
Other 2013 nominees are two composers, a pro golfer, and the artist whose work inspired the Kewpie doll. Trailing Heinlein in the voting, in second place, is the founder of an osteopathic school.
The Missouri Hall of Fame is enshrined at the capitol building in Jefferson City. It includes bronze busts of the 41 people on the list of Famous Missourians.
[Story boldly liberated from SF Site News and Locus Online.]
Update 11/01/2013: Corrected name of current Speaker.