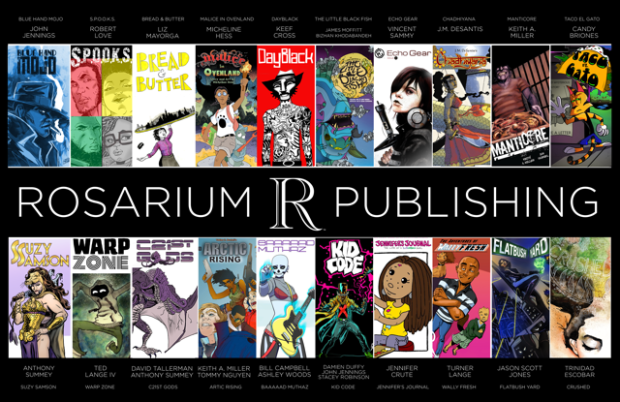 Rosarium Publishing, founded by Bill Campbell in 2013, has been selling print-on-demand books and digital editions. Now that Rosarium books are being distributed to stores by IPG, demand dictates a switch to offset printing to get more of the work into people's hands sooner. To fund that change, an Indiegogo appeal has been launched — Rosarium Publishing: The Next Level for Diversity in Fiction.
Rosarium has been able to accomplish all this through hard work, fan support and print-on-demand. With the success of the Rosarium Publishing Indiegogo "The Next Level" campaign, they will be able to print thousands of books and continue their mission to further their quest for diversity in publishing with the high quality of work they are known for. You can also find Rosarium Publishing titles at Amazon, Barnes and Nobles, Comixology and PeepGame Comix.
Here is what they will do, depending on how much money they raise:
$40,000 – This will help us print limited runs of the books and comics that have been slated for 2016: The Assimilated Cuban's Guide to Quantum Santeria, The Little Black Fish, American Candide, Malice in Ovenland, Vol. 1, Blue Hand Mojo, Vol. 1, The Adventures of Wally Fresh, Vol. 1, Chadhiyana, Vol. 1, The Voices of Martyrs, Manticore, and DayBlack, Vol. 2.

$60,000 – We have several books (like Mothership, The SEA Is Ours, and Stories for Chip) that are constant sellers that need to be taken off of print-on-demand and be moved to offset printing. This will help us do exactly that.

$80,000 – This will help us hire a publicist to bring Rosarium further into the public eye.
The appeal has received pledges for $10,169 towards its $40,000 goal with 13 days remaining.