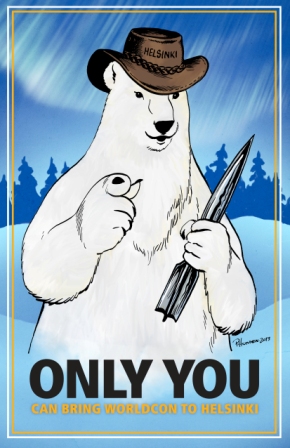 Helsinki in 2017 has people representing 26 different countries participating in their Worldcon bid. Symbolic of that international involvement is a project to translate the site selection voting information into other languages.
Crystal Huff says, "All of us also speak English, but we're really trying to 'put our money where our mouth is' in coordinating an international effort that would produce a really international Worldcon. That, for us, includes making information available in languages other than English, for those who don't natively speak English but are excited about Worldcon."
This is a campaign, so the post they've been translating unabashedly supports Helsinki. The original English text has already been translated into Finnish, Swedish, Chinese, German, Spanish and Irish/Gaelic. There are French, Japanese, and Dutch versions on the way.
Here are the links.
(Original English version ) So You Want to Vote on Worldcon Location? Yay!
(Finnish) Näin äänestät Worldconin Helsinkiin
(Irish/Gaelic) Ba mhaith leat vótáil ar suíomh Worldcon? Go hiontach!
(German) So, Du möchtest also über den Ort der Worldcon abstimmen? Hurrah!
(Spanish) ¿Quieres votar por la sede de la Worldcon? ¡Genial! (¡En Español!)
Helsinki is in a hotly contested race with bids for Montreal, Nippon and Washington DC. This kind of creativity might have more than just symbolic value, it could add needed support at the site selection ballot box.