The Horror Writers Association today published a "Warning: Email Scam Alert":
The HWA is aware members are being sent unsolicited emails from a company claiming they've selected people for a medical writing interview, or some variant. Of course, these did not originate and have not been okayed by the HWA. DO NOT REPLY!

Other writing organizations are also reporting their memberships have been targeted.

Sit tight, don't reply, and our web team are looking into this now. We will make any further statements necessary as we discover more
Dozens of HWA members have reported receiving an email like this one: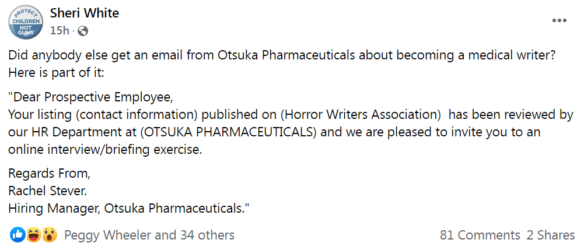 Another writers' organization, SFWA, recently announced that its Members-Only Directory info was copied and exposed online.
[Thanks to Anne Marble for the story.]