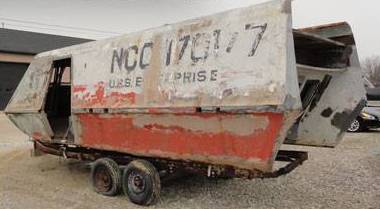 What remains of the shuttlecraft Galileo, a prop from the original Star Trek series, sold in June for the incredible price of $70,000. Astonishing might be a better word, given its condition after being left outdoors in the rain.
The Galileo is constructed of plywood (you were expecting titanium?). It's wedge-shaped, 24 feet long, 9 feet wide at the front, 14 feet wide at the tail, and 9 feet high. And empty as a barn.
Since the Sixties Galileo has had several owners. This video history [YouTube] says it was once displayed at Creation Cons. Later, the Galileo was acquired by fans with plans to do a full restoration. They hauled it from Palm Springs to Akron, Ohio and went to work in the spring of 1991. But they didn't finish. Disappointed owner Lynn Miller writes, "We have spent over $100,000 over the years to store and restore this thing. Anyone that I hired let me down and each time I got something accomplished it was ruined by incompetent people I hired." Especially the contractor who stored it outside.
When Galileo went up for auction last month bidders were offered the shell, the trailer it rides on, plus the other disassembled bits and pieces. Even though she's no longer a beauty the vessel still commands some admirers with deep pockets — three rival bidders pushed the price to $70,000 in the last 90 seconds of the auction.
[Thanks to Janice Gelb for the story.]