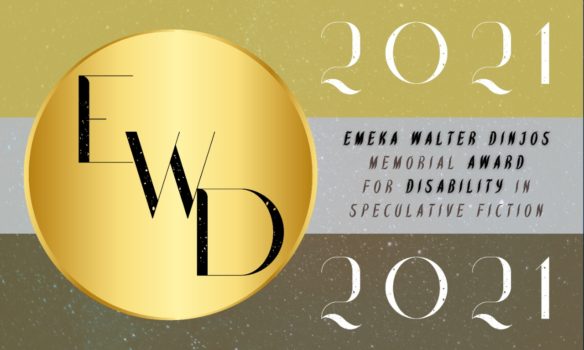 Oghenechovwe Donald Ekpeki revealed the inaugural finalists for the 2021 Emeka Walter Dinjos Memorial Award For Disability In Speculative Fiction today.
The prize has two categories. One awards a writer of speculative fiction for their representation or portrayal of disability in a world of speculative fiction, whatever their health status. The second awards a disabled writer for a work of speculative fiction in general, whatever the focus of the work may be.
THE DISABLED WRITERS CATEGORY
THE DISABILITY REPRESENTING WORKS CATEGORY
The winners will be announced in the first quarter of January 2023. You can see more about the award and what it aims to achieve here.

ABOUT THE SELECTED WORKS.

Works By Disabled Writers
The Disability Representing Works Category:
Award administrator Oghenechovwe Donald Ekpeki thanked those who assisted in reading, recommendations and other tasks, Mazi Nwonwu of Omenana, Lezli Robyn of Galaxy's Edge, M L Clark, and Ross Showalter.
[Based on a press release.]