Today I read an indie author telling his fans that creators inevitably have to deal with "haters." Then I scrolled through his recent posts and discovered he had written another assuring everybody he is unimpressed by the 2018 Hugo Award winners — and that his views must be widely shared because just look at the mass exodus of Hugo voters.
It seemed bizarre that someone capable of pointing people to the publicly-available 2018 voting statistics (as he did) thinks no one will notice his made-up "10,000 voters" number, which he offered as the figure from which this year's electorate has supposedly declined.
Here are the number of final ballots cast in the past seven years, from the official Hugo Awards website. (Links to PDF files.)
Of course, you'd expect participation to jump in 2014 because Loncon 3 broke a Worldcon membership record that had stood for 30 years, and it picked up a couple hundred Correia voters because that was the first year of Sad Puppies, ("Somewhere Puppies Are Smiling").
The next year, 2015, the Sad and Rabid Puppies took over the ballot ("Re-Entering the Lists: The Slates Impact on the Final Hugo Ballot"). However, while there were even more Puppy voters than the first year, the final results show a huge influx of voters joined to oppose them.
The people who joined to vote for Vox Day's slate in 2015 didn't stick around. And the even larger group of fans who answered the firebell that year didn't all stay after the crisis passed.
But consider this graph –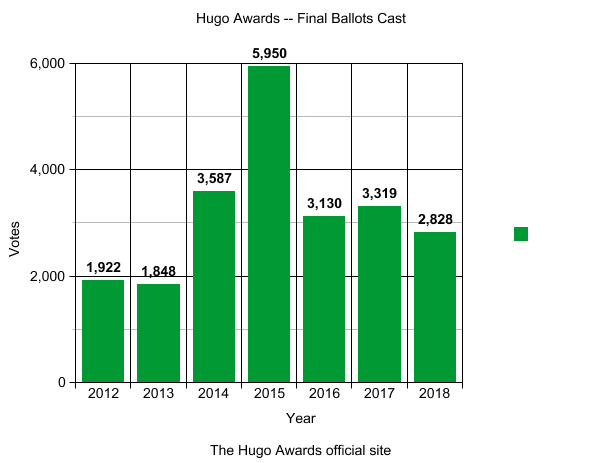 The number of 2018 voters is still over 50% higher than in 2012, the last pre-Puppy year. So this looks to me a lot more like a new, higher plateau than it does free-fall.
And I have to wonder if the fellow lecturing about "haters" owns a mirror.