By Carl Slaughter: Pocket Full of Tinder, the fourth installment of Jill Archer's Noon Onyx series is out this month. Publishers Weekly said, "Noon's voice is wry and genuine, encompassing her sharp sense of self.  Excitement and action leap from the pages as Archer's skill with description pulls readers fully into her magical world." RT said, "Archer's Noon Onyx series continues to be an original and compelling tale. The second Noon Onyx story is an astounding adventure. Kudos to Archer for creating such a compelling heroine and mythos! This is proving to be a really fresh and fascinating series!" Night Owl Reviews said, "Archer has a gift of creating characters with depth, growth and confidence." Amazon reviews have been low and mixed. Only a couple of dozen reviews per story.  70% have been 4 and 5 star.
DARK LIGHT OF DAY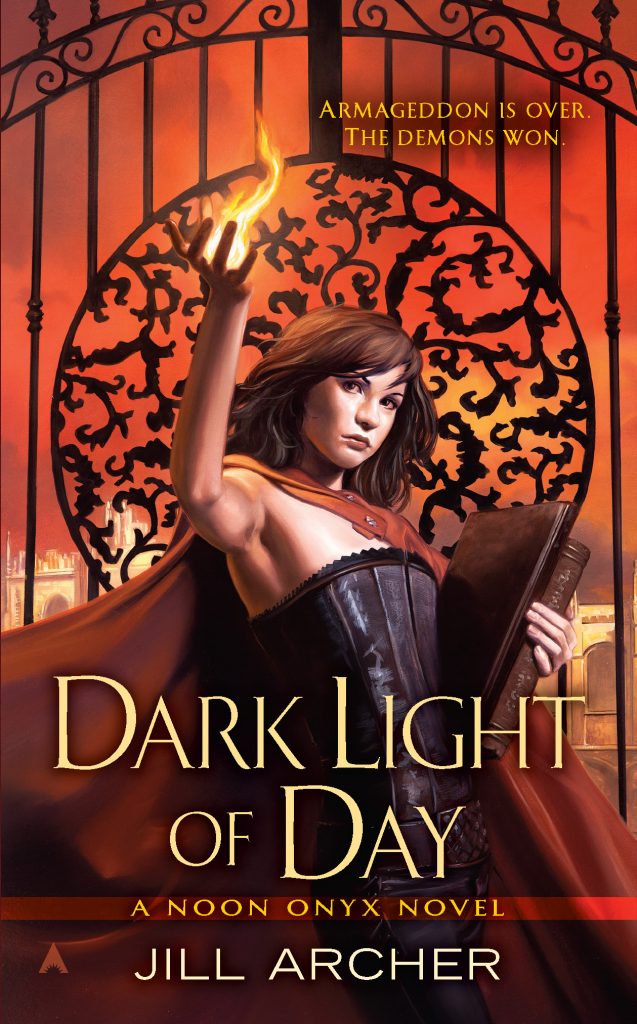 Armageddon is over. The demons won. And yet somehow…the world has continued. Survivors worship patron demons under a draconian system of tributes and rules. These laws keep the demons from warring among themselves, and the world from slipping back into chaos.

Noon Onyx grew up on the banks of the river Lethe, the daughter of a prominent politician, and a descendant of Lucifer's warlords. Noon has a secret: She was born with waning magic, the dark, destructive, fiery power that is used to control demons and maintain the delicate peace among them. But a woman with waning magic is unheard of, and some would consider her an abomination.

Noon is summoned to attend St. Lucifer's, a school of demon law. She must decide whether to declare her powers there…or to attempt to continue hiding them, knowing the price for doing so may be death. And once she meets the forbiddingly powerful Ari Carmine—who suspects Noon is harboring magic as deadly as his own—Noon realizes there may be more at stake than just her life.
FIERY EDGE OF STEEL
Lucifer and his army triumphed at Armageddon, leaving humans and demons living in uncertain peace based on sacrifice and strict laws. It is up to those with mixed demon and human blood, the Host, to prevent society from falling into anarchy.

Noon Onyx is the first female Host in memory to wield the destructive waning magic that is used to maintain order among the demons. Her unique abilities, along with a lack of control and a reluctance to kill, have branded her as an outsider among her peers. Only her powerful lover, Ari Carmine, and a roguish and mysterious Angel, Rafe Sinclair, support her unconventional ways.

When Noon is shipped off to a remote outpost to investigate several unusual disappearances, a task that will most likely involve trying and killing the patron demon of that area, it seems Luck is not on her side. But when the outpost settlers claim that an ancient and evil foe has stepped out of legend to commit the crimes, Noon realizes that she could be facing something much worse than she ever imagined…
WHITE HEART OF JUSTICE
Since Lucifer claimed victory at Armageddon, demons, angels, and humans have coexisted in uneasy harmony. Those with waning magic are trained to maintain peace and order. But hostilities are never far from erupting…

After years of denying her abilities, Noon Onyx, the first woman in history to wield waning magic, has embraced her power. She's won the right to compete in the prestigious Laurel Crown Race–an event that will not only earn her the respect of her peers but also, if she wins, the right to control her future.

However, Noon's task is nearly impossible: retrieve the White Heart of Justice, a mythical sword that disappeared hundreds of years ago. The sword is rumored to be hidden in a dangerous region of Halja that she is unlikely to return from. But Noon's life isn't the only thing hanging in the balance. The sword holds an awesome power that, in the wrong hands, could reboot the apocalypse–and Noon is the only one who can prevent Armageddon from starting again…
POCKET FULL OF TINDER
Maegester-in-Training Noon Onyx feels like she's done it all – mastered fiery magic, become an adept fighter, learned the law, killed countless demons, and survived having her heart broken by both love and an arrow, but now she'll face her greatest challenge yet…

Far to the north lies an outpost famous for its unrest – Rockthorn Gorge. The town's patron has specifically requested Noon's help. Her assignment? Help the neophyte demon lord build his fiefdom and keep what's his. The problem? Lord Aristos – Noon's new employer – is her erstwhile lover, Ari Carmine, the aforementioned heart breaker. And the number one thing he wants is her.

When Rockthorn Gorge's viaduct is destroyed by Displodo, an enigmatic bomber, killing a dozen settlers and wounding scores more, Noon sets off early to aid in the search and rescue. Ari is listed among the missing and the suspects are legion. But Noon's search is just the beginning. Her journey forces Noon to confront not only those she loves, but also enemies hell-bent on destroying them.