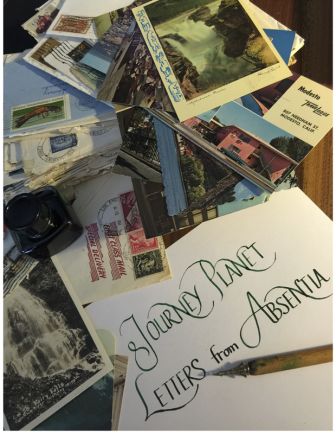 Journey Planet #26 delivers "Letters from Absentia" – about the art of letter writing, penmanship, stamps, philatelia, fountain pens and ink, as well as letters in time of war, and gameplay. Get your copy here.
The theme issue was assembled by guest editors Meg Frank, Esther MacCallum-Stewart, and Linda Wenzelburger, plus James Bacon and Chris Garcia.
We have a veritable rogue's gallery, starting with work and writing from Terry Pratchett, Seamus Heaney, Iain Banks, Robert Rankin, Alan Moore, Jimi Hendrix, Steve Gaynor and Myke Cole. Regulars Helena Nash, Pádraig Ó Méalóid and James Bacon focus on a variety of subjects from letters to the pen of Flann O'Brien to stalking Neil Gaiman's pens, and there's also advice about getting pens, histories of games by mail, food and letters, heartbreak and handwriting.

The editors have utilised handcrafted scripts, postal artwork, a customised ink and headers, and correspondence from the Instant Fanzine (sent by post, of course!) to illustrate the pages of the zine.
I'll be surprised if our resident pen collector, John King Tarpinian, isn't among the first to download the issue!