The Eisner Awards judges have selected two individuals to automatically be inducted into the Will Eisner Hall of Fame for 2018, Carol Kalish (pioneering direct sales manager for Marvel Comics), and Jackie Ormes (first black female newspaper cartoonist, for the strip Dixie in Harlem featuring the character Torchy Brown). Voters will select four more inductees.
Carol Kalish (1955–1991)
Carol Kalish served as Direct Sales Manager and Vice President of New Product Development at Marvel Comics from 1981 to 1991. She is credited with pioneering the comics direct market when it was in its adolescence, in part through a program in which Marvel helped pay for comic book stores to acquire cash registers. Beginning in the mid-1980s, Kalish spearheaded the expansion of the Marvel's distribution into previously unexplored retail outlets, including major bookstores such as B. Daltons and Waldenbooks. In 2010 she was posthumously awarded the first ComicsPRO Industry Appreciation Award.
Jackie Ormes (1911–1985)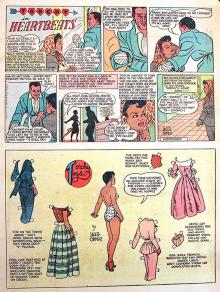 Jackie Ormes was the first, and for a long time only, black female newspaper cartoonist. From 1937 to 1938 she wrote and drew Dixie in Harlem comics featuring Torchy Brown. After returning to her roots in journalism, she published Candy, a single-panel cartoon about a witty housemaid in 1945. Then she created Patty-Jo 'n' Ginger, another single-panel cartoon about a pair of sisters, which ran for 11 years through 1956. Finally, from 1950 to 1954, Ormes revamped Torchy Brown into Torchy in Heartbeats, an 8-page color comic insert, including many paper dolls as was popular in the time.
The judges have also chosen 16 nominees from which voters will select four to be inducted in the Hall of Fame this summer. These nominees are Charles Addams, Jim Aparo, Gus Arriola, Karen Berger, Howard Cruse, Carlos Ezquerra, Dave Gibbons, Paul Levitz, Tarpé Mills, Francoise Mouly, Thomas Nast, Lily Renée Peter Phillips, Posy Simmonds, Rumiko Takahashi, John Wagner, and S. Clay Wilson.
[Thanks to Mark Hepworth for the story.]