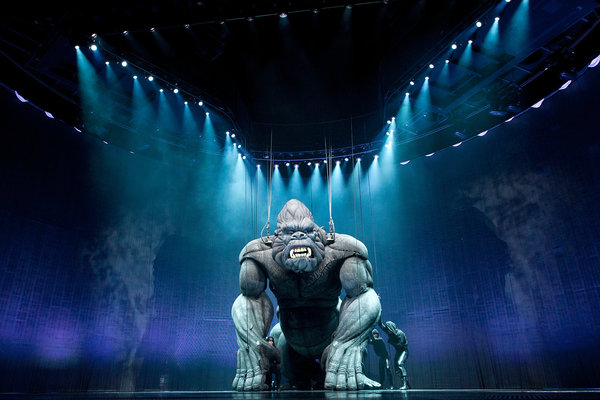 The massively budgeted King Kong musical, expected to move to America this year, has delayed its Broadway opening and will have to switch theaters.
Having completed its Melbourne run in February, the show was supposed to reopen in New York this December in the same theater that housed Spider-Man: Turn Off the Dark.
Kong's producer, Carmen Pavlovic of Global Creatures, told the New York Times the delay was motivated by artistic considerations –
"'King Kong' has been more than five years in the making and we are thrilled with the production that played to packed houses in Melbourne. We learnt so much from this first engagement. We realize that there are some exciting creative changes we can and want to make before 'King Kong' comes home to New York City and we don't want to be pressured to rush in to meet any artificial deadlines. We want to make the best possible show."
But the NYT reporter speculated that Spider-Man's $60 million loss was too fresh in mind and Kong's producers didn't want to labor under the associations caused by opening another effects-heavy musical production in the same house. Meanwhile, that theater has been booked by another musical, a revival of On The Town.
Two months ago, before the delay was announced, a Variety writer argued Kong's risks of failure are much less than Spider-Man —
There are also major differences in the two shows' production models. The sky-high $75 million cost of "Spider-Man" was incurred in large part by a long, haphazard development process for a show that opened cold on Broadway, with all those expenses folded into the New York production's budget. By contrast, "King Kong" has already been developed in the Melbourne production (said to have come in at around $30 million), so the capitalization of the American staging, while still poised to be high by Broadway standards, won't be weighed down with those expenses. And since the heavy-lifting required to mount "Kong" has already been accomplished once, there's zero likelihood that previews will stretch over months as they did at "Spider-Man."
[Thanks to James H. Burns for the story.]