Ed Kramer's defense attorney, Brian Steel, was in a Gwinnett County court on April 26 asking for his client to be released on bond, less than three months after being extradited from Connecticut for violating the terms of his previous release. And Kramer left before the hearing was over, claiming he felt too ill to remain to the end.
Warned repeatedly that proceedings would go on without him, Ed Kramer stood pat. He didn't feel well. The accommodations sheriff's deputies had made for a oxygen tank were no longer adequate.

"I understand, I don't have a choice at this point," Kramer — bespectacled, a large black yamulke perched on a larger, messy mass of black hair, breathing oxygen from a tank on the back of his wheelchair — told Gwinnett County Judge Karen Beyers.

"Your appearance appears to be just the same as when you began this hearing today," Beyers said. "In terms of my observations of you, there's nothing that I can see that's deteriorated in terms of your physical appearance since you've been here, or in terms of your attention to the matters."

Kramer responded quickly before being wheeled out of the courtroom.

"Thank you for your medical assessment," he snarked.
Judge Karen Beyers denied bond after both parties presented their evidence.
"I find that the defendant has not abided by conditions of bond and it appears to me that he's not going to do so based on his conduct and the evidence presented," she said. "He's been to Kentucky, he's been to Connecticut, he's reported by cellphone."
Kramer faces multiple counts of child molestation that have been pending since his arrest in 2000. After Kramer's team of attorneys filed a request for speedy trial in 2009, Judge Beyers ruled that when they filed a motion declaring Kramer physically able to attend trial, the case would proceed.
District Attorney Danny Porter tried to convince the court of Kramer's capacity to participate by presenting two witnesses who said they observed Kramer walking unhindered (and with a camera) in 2011.
Krystal Phillips was the makeup artist for the "three-part horror period anthology" that Kramer joined in Milford, Conn. Her hair cut short and bleached blond, big circular earrings matching her blue blouse, Phillips told the court that she watched Kramer stroll through the hilly woods where the movie was being shot….

A second witness, a producer from Louisville, Ky., named Tim Gooch, said Kramer showed up in May 2011 while he and a small team were shooting a "Lord of the Rings" spoof series. Gooch said Kramer "wasn't gonna run marathons," but that he saw him walking without oxygen and with minimal help from a cane.

"I saw him do that a couple of times," Gooch said.
Porter has filed a motion to place the case on a trial calendar, pending medical approval of the defense. Steel said a hearing on the calendar motion could be possible "in two or three months."
There is a video news report of today's hearing available here at MyFoxatlanta.com.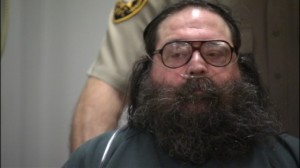 [Thanks to Don Cook and Nancy Collins for the story.]