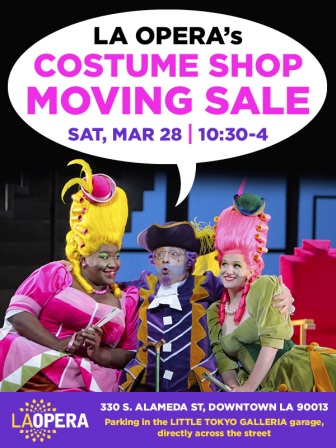 Cosplayers and masquerade competitors are noted for making their own costumes, however, the LA Opera's Costume Shop sale on March 28 is a rare opportunity for anyone who loves exotic apparel.
Over 1,000 costumes on 90 clothing racks will be wheeled out to the parking lot and put on sale alongside tables of one-of-a-kind items such as handcrafted hats, uniquely designed shoes, numerous masks, theatrical jewelry, period wigs, gladiatorial armor and even slave cuffs! Also for sale will be bolts of unusual fabrics and faux fur, as well as buttons, belts, floral hair pins, bustles and panniers.

Costumes available for sale will include items from Aida, The Barber of Seville, The Birds, The Broken Jug, Cinderella, The Grand Duchess, Lucia di Lammermoor, Orfeo ed Euridice, The Queen of Spades, Salome, The Turk in Italy, The Turn of the Screw and Vanessa, among others.
While many items will be priced to clear, a "Diva Rack" of costumes worn by major names like Plácido Domingo, Kiri Te Kanawa and others will be reserved for high rollers prepared to spend from $1,000 to $5,000.
[Thanks to James Bacon for the link.]