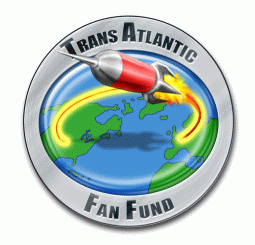 By Curt Phillips: The deadline for nominations for the 2016 Trans-Atlantic Fan Fund race to bring a delegate from the UK or Europe to the United States to attend the 2016 World Science Fiction Convention at Kansas City, Missouri is approaching quickly. If you're considering throwing your hat in the ring you must do so by this coming Friday, December 11, at 12:00 p.m. GMT.
Contact any of the three TAFF administrators or go to Dave Langford's TAFF website at TAFF.org.uk for more information.
To be a candidate for TAFF a fan must be nominated by three known fans in the UK/Europe and two in the US, submit a monetary bond  ($20 US or the equivalent – see website for details) and send the administrators a platform statement not to exceed 101 words for the ballot.  The platform can be submitted a little later but the nominations and bond must be submitted by the time of the deadline.
And even if you aren't going to be a candidate, please do support Fandom's premier fan fund by voting in the 2016 TAFF race. It makes a huge difference in the life of the fan who becomes the TAFF delegate,and is surely one of the best things we do for this fandom that we all enjoy. Whomever you vote for, PLEASE VOTE FOR TAFF!
Curt Phillips
North American TAFF administrator
Absarka_prime (at) comcast (dot) net