I give thanks to the internet for remedying my want of a good 19th-century education, specifically, to the website that provides translations of all non-English phrases in Patrick O'Brien's sea tales.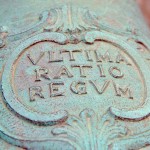 While browsing there I noticed this reference from The Ionian Mission:
ultima ratio regum
the final argument of Kings (L; from the tag 'War is the final argument of Kings'.)
One king, Louis XIV of France, so approved the sentiment that he ordered the motto stamped on his cannon.
Upon reading the complete quote from which the phrase was taken, it occurred to me this is a classical inversion of Asimov's famous maxim (from Foundation), "Violence is the last refuge of the incompetent." I wondered,  is there a connection?
Not necessarily. Wikiquote considers Samuel Johnson to have been Asimov's inspiration with his maxim "Patriotism is the last refuge of a scoundrel."
Wikiquote actually calls this an "apophthegm." I hope someone is at work on a website that will explain all the non-English words used there, to remedy my want of a good 21st-century education.