Peter "Stoney" Emshwiller, is the son of experimental filmmaker and sf artist Ed Emshwiller and sf writer Carol Emshwiller.
When he was 18 years old, his father Ed shot footage of Peter interviewing his future self.
I sat in a well-lit chair in a completely black studio and, like some teenaged Johnny Carson, chatted with an invisible older me. During this one-way conversation, I asked my older self tons of questions about my future – from career to family to art to friendships to sex. Then I recorded many different reactions to each possible answer, ranging from polite nods, to joy, sadness, annoyance, surprise, and outright horror….

My filmmaker father, Ed Emshwiller, ran the camera for me and covered the first half of this interview in various ways – with close ups, wide shots, "two shots" (but with one person), over-the-shoulder foreground shots (with no one in the background), etc.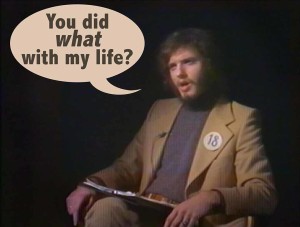 Now Peter is raising money to finish the conversation between his young and middle-aged self.
A recent health scare (happily a false alarm) made me realize I ain't gonna live forever, and that it's time to finish this project. So I'm finally going to (gulp) face my younger self and record the other half of the conversation. Then I'll edit all the footage together. The final illusion should be a humorous, touching, sometimes combative, always revealing, totally impossible conversation between a bright-eyed teen and his own middle-aged self.
His Rockethub appeal to fund "Later That Same Life" has already generated $15,270 – the original goal was $10,000 – on its way to a stretch goal of $20,000.
If I reach my new stretch goal of $20,000 I'll not only be able to digitally restore the original footage, but I'll be able to rent a black box stage to shoot the "interview" section of the movie, and pay the crew in actual money (instead of paying them in Twizzlers and Fresca).  It was always my plan to do this thing on a shoestring.  But now maybe I can do an entire shoe!  Feature length film. Music. FX. Sound design. Locations. Equipment rental. Post production editing and sound work. Mix. Plus, most important, I'll be able to travel to film festivals to promote the final project when it's finished!!  Woohoo!
How often does real life surpass Doctor Who? Doesn't this story remind you a little of the Hugo-winning Who episode "Blink"?  
[Thanks to Jim Meadows for the story.]