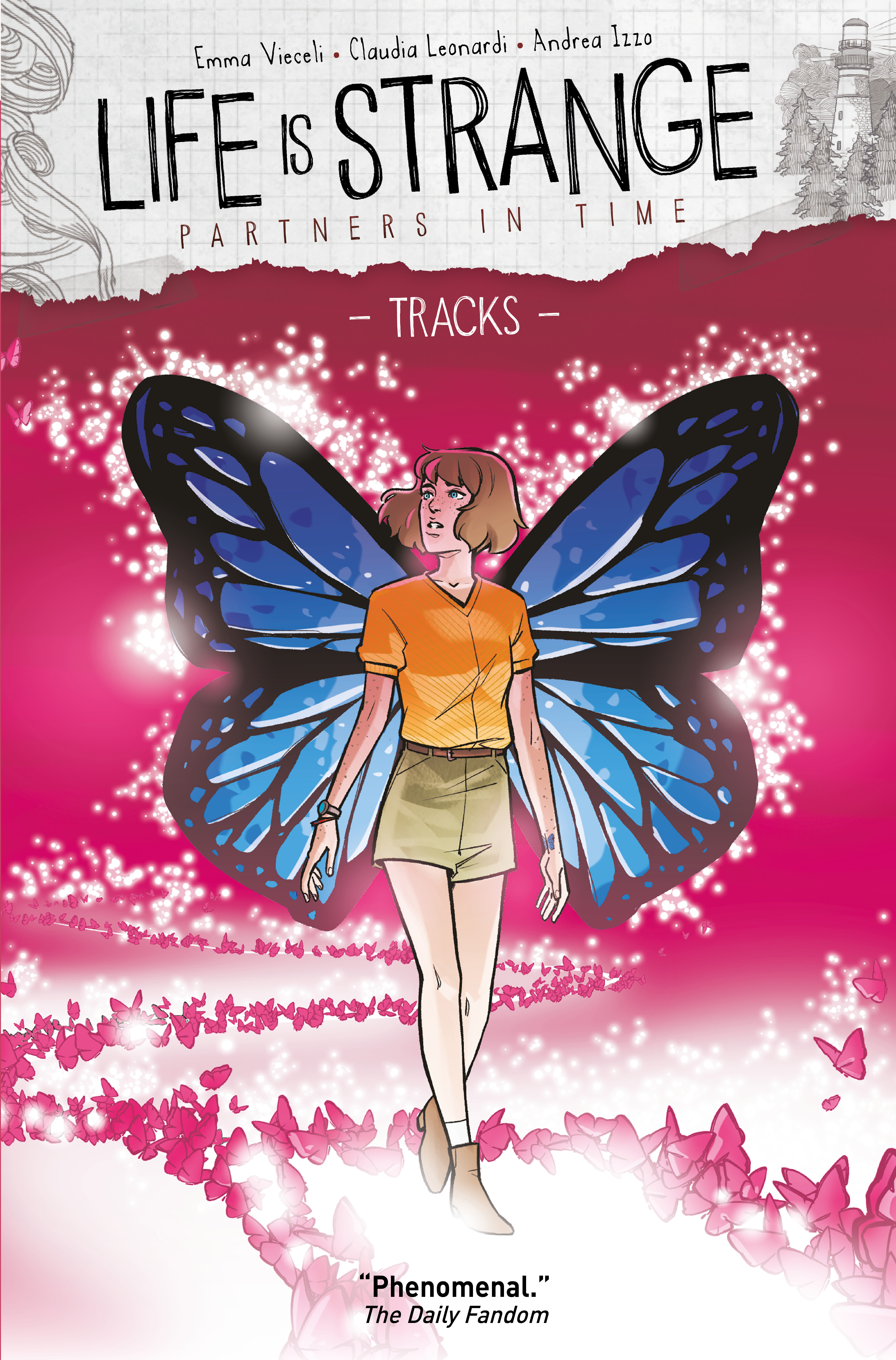 File 770 today kicks off a Titan-Comics blog tour for Life is Strange Vol. 4: Partners In Time: Tracks. Enjoy Cat Eldridge's review and the art highlights that follow.
How far would you go, to get back to the person you love? As Max Caulfield embarks on a road trip across America after coming so close to returning to her own timeline, across the transect Tristan and Chloe follow the same path. But, both Max and Tristan struggle to control their powers and it looks like Max and Chloe may never get their happy ending – unless they can find something, or someone, to help them.
Review by Cat Eldridge: Life is Strange, Volume 4: Partners in Time Tracks
The fourth volume of the comic series based on the BAFTA-winning video game Life is Strange, follows the quite strange tales of multiverse hopping Max Caulfield. Though the premise is that they are time travelers, they actually are altering the multiverse itself and changing what happens to reality itself.
In this chapter of the series, time-twisting photographer Max has spent the past several years in a reality adjacent to her own. Lately, she realised she was running from her responsibilities… and from the Chloe she left in that reality. So she is determined to get home at all costs. So there must be a way for her to get home even with the multiverse firmly against her, so it's time for the coast-to-coast road trip of multiple lifetimes to find it – when she follows the The High Seas band towards an uncertain destiny!
(I'm a sucker for a genre story involving a band and this one is damn good. Charles de Lint had one in his Medicine Road novel, and Terri Windling hand a scene with a band in The Wood Wife.)
So without going into the story in detail, let's just say that both the characters and the story told here are plausible and well thought with characters that actually make sense. The LGBTQ characters are well-fleshed and make perfect sense here. I will say that it would definitely make more sense to start at the beginning of the story than here at volume four as there's a lot of backstory doesn't get detailed.
The artwork is awesome, simply awesome. It's a soft palate brush effect that fits that setting in the Southwest and California perfectly. I also give points for whoever did the formatting for making work absolutely perfecting with the iPad, something that doesn't happen all that often alas.
---
Life is Strange Vol. 4: Partners In Time: Tracks is published by Titan Comics and is available in bookstores, comic shops and online via Amazon, Forbidden Planet and digital download.
Five pages of interior art follow the jump.
About the Creators:
Emma Vieceli is a comics artist and writer who has worked on a variety of projects by esteemed publishers, including Doctor Who, Back to the Future, Jem and the Holograms and Manga Shakespeare. She has also illustrated popular graphic novel adaptations of Vampire Academy and Alex Rider. Her creator-owned success is Breaks, written with Malin Ryden.
Claudia Leonardi is an up and coming artist based in Italy. Life is Strange is her breakthrough into the world of comic books, with many more projects to come.
LIFE IS STRANGE VOL. 4: PARTNERS IN TIME: TRACKS
Writer: Emma Vieceli
Artist: Claudia Leonardi
Publisher: Titan Comics
Softcover, 112pp, $16.99, £13.99
On sale April 2021
ISBN: 9 9781787734739