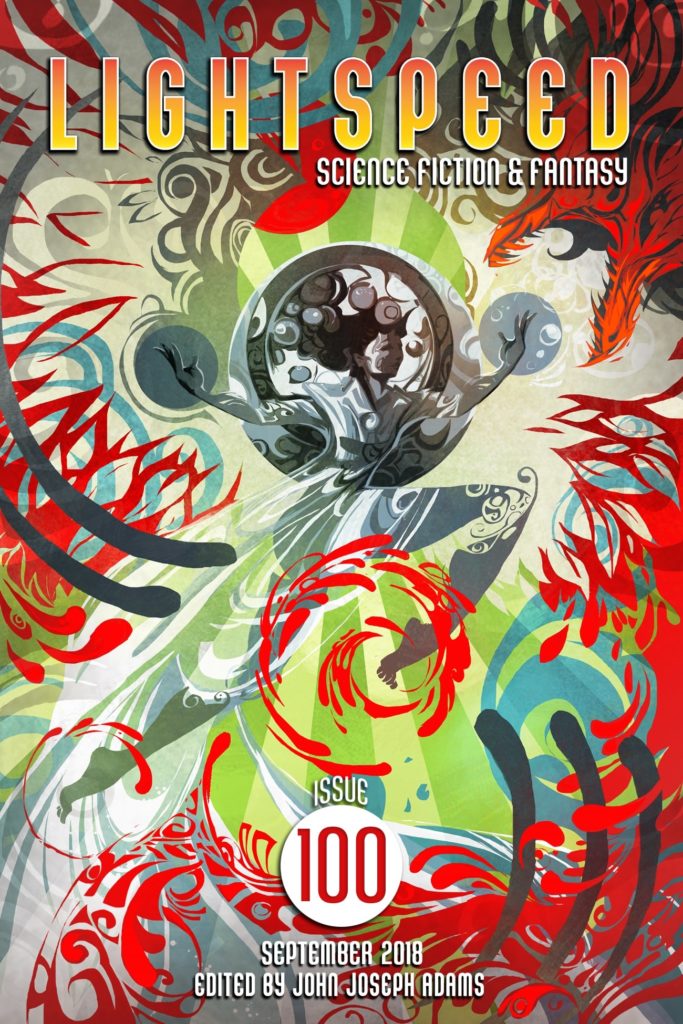 Congratulations to Lightspeed and publisher/editor John Joseph Adams on reaching the century mark and celebrating with a super-sized 100th issue containing ten original stories–more than twice the amount of original fiction than usual–plus ten reprints and some special nonfiction.
Lightspeed launched in 2010 and soon became one of the field's most acclaimed magazines, winning the Best Semiprozine Hugo in 2014 and 2015 before reclassifying as a prozine in 2016.
Issue 100's cover art is by Hugo award-winning artist — and fifty-three-time Lightspeed illustrator — Galen Dara.
The issue's new science fiction comes from Vylar Kaftan: "Her Monster, Whom She Loved." We also have new SF from Carrie Vaughn ("Harry and Marlowe and the Secret of Ahomana"), Adam-Troy Castro ("The Last to Matter"), Ken Liu ("The Explainer"), and Sofia Samatar ("Hard Mary"), plus reprints from A. Merc Rustad ("How to Become a Robot in 12 Easy Steps"), Charles Yu ("NPC"), Caroline M. Yoachim ("Stone Wall Truth"), An Owomoyela ("Travelling Into Nothing"), Seanan McGuire ("Frontier ABCs: The Life and Times of Charity Smith, Schoolteacher"), and David Barr Kirtley ("They Go Bump").
And there's new fantasy from Maria Dahvana Headley ("You Pretend Like You Never Met Me, and I'll Pretend Like I Never Met You"), Cadwell Turnbull ("Jump"), Genevieve Valentine ("Abandonware"), Sam J. Miller ("Conspicuous Plumage"), and Kat Howard ("A Brief Guide to the Seeking of Ghosts"), plus reprints from Yoon Ha Lee ("The Coin of Heart's Desire"), Theodora Goss ("Elena's Egg"), Charlie Jane Anders ("The Super Ultra Duchess of Fedora Forest"), and Jeremiah Tolbert ("The Girl with Sun in Her Head").
There's also a novel excerpt from Gene Doucette's The Spaceship Next Door.
The nonfiction entries are "A Few of Our Favorite Things" by Wendy N. Wagner; "Book Reviews: September 2018" by Arley Sorg; "Media Reviews: September 2018" by Jenn Reese; and "Interview: John Joseph Adams" by Christian A. Coleman.
Lightspeed 100's online edition includes the usual amount of fiction published — 8 stories — but the rest of the special issue bonus content is exclusive to the ebook and trade paperback editions. These can be acquired from the usual vendors or Direct from Lightspeed (epub, mobi, pdf), Amazon (Kindle), Kobo (epub), Barnes & Noble (Nook), and Weightless Books (epub, mobi, pdf). A trade paperback edition is also forthcoming from Amazon.com.