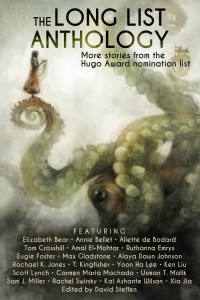 The Long List Anthology ebook is on sale this week for 99 cents (or similar price in other currencies).  It was a featured deal in BookBub's daily email on Sunday, and will be on sale at least through end of day Thursday (Pacific time).
Links to vendors can be found at Diabolical Plots.
The anthology presents many of the short fiction works which were not 2015 Hugo finalists but received numerous nominating votes.
Editor David Steffen says, "Over 7,000 copies of the book have now been distributed (including the Kickstarter rewards).  In contrast, there were just under 6,000 Hugo voters last year (which was a record turnout)."