By Carl Slaughter: Malcolm Cross does military science fiction. He also gets pirated.
His novel Extinction Biome: Invasion, co-authored with Anne Tibbets and published under the house name Addison Gunn), was released in five eBook novellas earlier in 2016, culminating in a collected print edition in June. His novel Dog Country came out in the spring. "Dangerous Jade" won the Ursa Major Award for best anthropomorphic short fiction.
"Pavlov's House", published by Strange Horizons, was pirated by the now notorious Hungarian sf magazine Galaktika. File 770 has been providing ongoing coverage of the Galaktika investigation.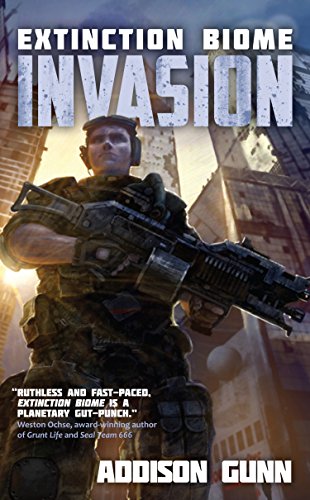 Extinction Biome
The Earth was never ours…

Alex Miller trained for years in the Army, waiting for a war that never came. Now a corporate bodyguard and driver, he's about to bear witness to the end of the human race.

An ancient ecology has reawakened, and like a Biblical plague it threatens to consume all life on Earth. Hordes of parasite-infected humans riot in the streets, as vast fungal blooms destroy our crops and fast-evolving horrors stalk our cities.

The last time this happened, T-Rex found itself on the menu. But mankind's got more than teeth – it's got guns. Miller and the men and women of COBALT, the Schaeffer-Yeager Corporation's elite security team, are pressed into service to fight the onslaught, but they have no idea how cut-throat their company masters can be…
Praise for Extinction Biome:
"Ruthless and fast-paced, Extinction Biome is a planetary gut-punch."
— Weston Ochse, award-winning author of Grunt Life and Seal Team 666
Dog Country
A crowdfunded civil war is Azerbaijan's only hope against its murderous dictatorship. The war is Edane Estian's only chance to find out if he's more than what he was designed to be.

He's a clone soldier, gengineered from a dog's DNA and hardened by a brutal training regime. He'd be perfect for the job if an outraged society hadn't intervened, freed him at age seven, and placed him in an adopted family.

Is he Edane? Cathy and Beth's son, Janine's boyfriend, valued member of his MilSim sports team? Or is he still White-Six, serial number CNR5-4853-W6, the untroubled killing machine?

By joining a war to protect the powerless, he hopes to become more than the sum of his parts.

Without White-Six, he'll never survive this war. If that's all he can be, he'll never leave it.
Praise for Dog Country:
"Very much informed by 1980s cyberpunk fiction. The richly staccato narration and dialogue-heavy scenes carry the distinctive generic DNA of sexualised, late-modern (and postmodern) cityscapes fed through Raymond Chandler, Ian Fleming and Jack Kerouac."
— Dr. Robin Stoate (co-author, BFI Film Classics: Back to the Future)
"Cross shows an extremely distinctive voice, staying so much in the viewpoint character's head that it borders on stream of consciousness. … there are few genuine stylists among furry authors and even fewer this good."
"Opening with a powerful, visceral chapter, Dog Country is a novel that grips your imagination from the start and doesn't let go. … Both in terms of the larger, fractured political situation as well as the immediate, intense military action, Cross has created a remarkable novel."
SOCIAL MEDIA
Website: http://www.sinisbeautiful.com/
Twitter: @foozzzball
Amazon Author Page: Malcolm-F.-Cross