It's not easy to come up with a pet photo that isn't qualified for either of File 770's meme series but Contrarius rose to the challenge:
Doesn't fit your pet series because no sff AND no mask, but I couldn't resist sharing anyway. She is but one of many chicks getting too big for their brooders in my house right now, and yesterday she figured out how to break out and decided that she was a person. Visited me yesterday and today, so today I took a pic. Tried to get one of her sitting beside my Kindle Fire with the cover of Physicians of Vilnoc on the screen, but I couldn't get the cover to show in the pic and she didn't really appreciate all the maneuvering. So here she is, just being a lap chicken. 😉

Sadly, she's a very bad example of her breed (cream Brabanter). But I'm not holding it against her!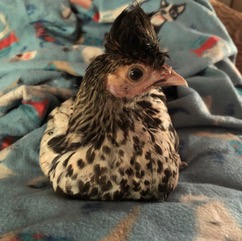 ---
If you want to see this series continue (not because it's easy, but because it is hard), send photos of your mask and social distancing reads to mikeglyer (at) cs (dot) com