By Mark L. Blackman: On the evening of Tuesday, May 1 – May Day – the New York Review of Science Fiction Readings Series hosted readings by fantasy writers Jo Walton and Ilana C. Myer at its venue, the Brooklyn Commons Café, down the road apiece and third star to the left from Brooklyn's Barclays Center.
(Mayday indeed. The Series' original plans for May Day, a tentatively scheduled celebration of the life of Ama Paterson, fell through, but the two replacement readers were no mere consolation prize. The evening was a delight.)
In his introductory welcome (he thought of the day more as Beltane than as May Day), executive curator Jim Freund, host of  WBAI-FM's Hour of the Wolf radio program on sf and fantasy (which broadcasts and streams every Wednesday night/Thursday morning from 1-3 am), cautioned us that the event was being Livestreamed (so watch out) and asked all who could donate to donate (suggested amount $7), adding that WBAI (two floors above) was in a fundraising drive. He then announced upcoming events:
June 5 – A Tribute to Thomas M. Disch, with guest curator Henry Wessels, featuring Brendan Byrne, John Clute, Gregory Feeley, Elizabeth Hand, et al.
July – TBD
August 7 – A Launch Party/Reading for Sunspot Jungle, with guest curator Bill Campbell
June, he noted, marks 10 years since Disch's final reading for the Series, a bare month before his death. Feeley, aside from his credentials as author and critic, is the executor of Disch's estate. Campbell's anthology was described by Freund as "bleeping [sic] massive." June's event would close out the Series' 27th Season, with July and August as its Summer Season. Concluding, Freund introduced the evening's first reader.
Journalist and cultural critic and reviewer (as Ilana Teitelbaum) Ilana C. Myer is the author of the novels Last Song Before Night and Fire Dance. She read from Fire Dance, which she described as a stand-alone sequel to Last Song Before Night, and a blend of Celtic myth and Middle Eastern magic, where poets/musicians have mystical/mental powers.
During the intermission, as traditional, a raffle was held for donors; the prizes were a copy of Fire Dance (Jim Ryan drew the tickets and, as it happened, the winner was his wife Susan – no collusion, no collusion!) and a copy of Starlings. Afterward, Freund introduced the second and final reader.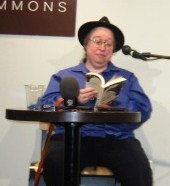 Jo Walton has published thirteen novels, among others the Hugo and Nebula Award-winning Among Others; her fourteenth, Lent, is due out from Tor soon. She has also just published Starlings, a collection of short stories, poetry and a play. Additionally, her blog posts about older sf have been collected in a volume called What Makes This Book So Great, while An Informal History of the Hugos collects her blog posts about nominees and winners from 1953 to 2000. Walton has said that her plan is to live to be ninety-nine and write a book every year; she noted that she has a good start this year.
With a mind to next month's tribute to Disch, she began by reading her essay on his On Wings of Song from An Informal History of the Hugos. She described the work as "brilliant, depressing and hilarious … as if Dostoevsky and Douglas Adams had collaborated on the Great American Novel." She then read an abundance of selections from Starlings, enlivened by her rich Welsh accent. (Neil Gaiman and Douglas Adams may not like the birds, but she does.)
She began with the eponymous "Starlings," a short serious poem, then shifted to the uproariously absurd "Remember the Allosaur," in which Cedric, the titular theropod (he's a clone), has had quite the Hollywood career, even winning an Oscar for his portrayal of Othello. In "Joyful and Triumphant: St. Zenobias and the Aliens," a Christmas posting on LiveJournal, she addresses the question of what do people do in Heaven? There are a lot of planets out there, and human and alien saints, we are told, may manifest on each other's world; the "lucky" ones don't become patron saints, but are free to engage in "the Great Work," worship. "At the Bottom of the Garden" was written when her son was that age. A little girl captures a fairy man and – well, Walton had "read one too many fairy flower books."
In "Out of It," a damned soul, John (as his wife's name is Helen, we presume that his was originally Johann), is asked if his bargain with Mephistopheles (which has affected history for good and ill) was worth it or if he should renounce it. "Parable Lost" is a story that has "everything in the universe" – almost – and starts with a man (call him Adam) throwing jellyfish (which are and aren't metaphorical) into the sea. Is he helping them or thwarting the Plan for them, and what should the woman (Eve) do?
"Dragon's Song" was a poem about dragons as they appear in many ballads. She next turned to that modern incarnation of firebreathing dragons in her cycle of "Godzilla Sonnets": "Godzilla vs. Shakespeare," "Godzilla in Shakespeare," "Godzilla Weeps for Baldur," "Godzilla in Love" and "Godzilla at Colonus." She concluded her readings with "Three Bears Norse," the Goldilocks story retold as a Norse saga – the bears vow revenge against the despoiler of their home, beds and porridge.
Among those present in the audience of about 30 were Richard Bowes, Susan Bratisher, Madeline Flieger (video and tech ops), Amy Goldschlager, Karen Heuler, (House Manager) Barbara Krasnoff, John Kwok and James Ryan. Throughout the evening and following the readings, members of the audience availed themselves of the Café's food, coffee bar, beer and wine. (Tip your barista!) As customary, the Jenna freebie table offered books.