Compiled by Cat Eldridge: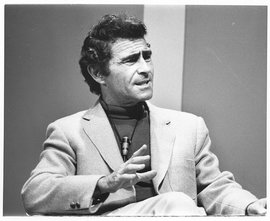 Born December 25, 1924 — Rod Serling. Best remembered for the original and certainly superior Twilight Zone and Night Gallery with the former winning an impressive three Hugos. He's also the screenwriter or a co-screenwriter for Seven Days in May, a very scary film indeed, as well as The New People series, The Strange Case of Dr. Jekyll and Mr. Hyde, A Town Has Turned to Dust, UFOs: Past, Present, and Future and Planet of the Apes. ISDB lists a lot of published scripts and stories by him. (Died 1975.)
December 25, 1965 — BBC's Doctor Who aired the very first of its holiday episodes "The Feast Of Steven". Running about twenty-four minutes, this First Doctor story survives only in stills and video fragments. It's worth noting that Jean Marsh who was once married to future Third Doctor Jon Pertwee was a cast member here as Sara Kingdom who BBC does not consider a Companion.
December 25, 1992 — Roald Dahl's The BFG premiered on ITV in the U.K. It's based on his decades-old novel of that name. It was directed by Brian Cosgrove and scripted by John Hambley. The film was dedicated to animator George Jackson as he had worked on quite a few Cosgrove Hall productions prior to his passing some years earlier. This film is also the last and only posthumous role of Ballard Berkeley, the voice of the Head of the Army, who died four years earlier. Well received by critics and viewers alike, it's now a cult classic (don't groan) with a 65% rating among reviewers at Rotten Tomatoes.
December 25, 1999 — The film that is an acknowledged homage to Trek, Galaxy Quest premiered. It's directed by Dean Parisot from a script by David Howard and Robert Gordon. It has a cast of Tim Allen, Sigourney Weaver, Alan Rickman, Tony Shalhoub, Sam Rockwell, and Daryl Mitchell. Chicon 2000 would of course award the Hugo it deserved (yes, I'm biased) beating out The Matrix, The Sixth Sense, Being John Malkovich and The Iron Giant.
December 25, 2005 – Doctor Who "The Christmas Invasion" premiered. This episode features the first full-episode appearance of David Tennant as the Tenth Doctor and is also the first specifically produced Doctor Who Christmas special in the series history as the ones before were considered just part of a series. It included Companion Rose Tyler as played by Billie Piper and Rose's mother, Jackie, as played by Camille Coduri.  
December 25, 2008 — The Spirit premiered. It was written and directed by Frank Miller and starred Gabriel Macht, Eva Mendes, Sarah Paulson, Dan Lauria, Paz Vega, Scarlett Johansson, and Samuel L. Jackson. It's based as you know on Will Eisner's most excellent The Spirit. To say it bombed would be an understatement as it lost tens of millions of dollars, critics for the most part really didn't like it and it currently has a rating of 14% among reviewers at Rotten Tomatoes.