By Carl Slaughter: In exclusive for File 770, to celebrate the publication of Not So Much, Said the Cat, which came out this summer, Michael Swanwick gives us the inside story on his collections.
(The Dog Said Bow Wow.  Hello, Said the Stick.  Not So Much, Said the Cat.  Anyone else see a pattern?)
GRAVITY'S ANGELS
Sauk City: Arkham House, 1991
Thirteen stories:
A Midwinter's Tale
The Feast of Saint Janis
The Blind Minotaur
The Transmigration of Philip K.
Covenant of Souls
The Dragon Line
Mummer Kiss
Trojan Horse
Snow Angels
The Man Who Met Picasso
Foresight
Ginungagap
The Edge of the World
MICHAEL SWANWICK: Five of these stories were Nebula Nominees. One was a World Fantasy Award Nominee. One won the Asimov's Readers Award. And one won the Theodore Sturgeon Award and was nominated for the Hugo and Arthur C. Clarke Awards.

This was my first collection. Jim Turner, the editor at Arkham House at that time, called me up out of the blue one day, wanting to assemble a collection. I'd been publishing stories for a decade by then and we both agreed on which were the best, so the editing was easy. Jim was one of my favorite people. He'd begin a phone conversation by saying, "Listen, Swanwick, I don't have time for any of your nonsense. I just need a question answered and that's the end of it."

"Hello, Jim. It's good to hear from you," I'd say. And with a harmless bit of gossip here and a comment about a hot new story there, I could keep him on the phone for hours. There aren't many people I'd want to keep on the phone for hours, but he was right at the top of the list.

Jim's original idea for the cover was to use Picasso's Guernica as a wrap-around. But when he looked into it, the proportions were wrong. "I'd have to crop it to make it work," he told me over the phone, "and you can't cut up a great work of art!"

I will be grateful to my dying day that I resisted the urge to say, "Oh, go ahead, Jim."
A GEOGRAPHY OF UNKNOWN LANDS
Lemoyne, PA: Tigereyes Press, 1997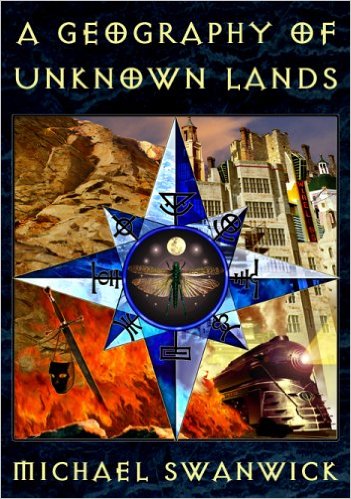 Six stories:
Introduction: The Wireless Folly
Mother Grasshopper
North of Diddy-Wah-Diddy
The Edge of the World
Radio Waves
The Changeling's Tale
MICHAEL SWANWICK: Five of these stories hadn't been collected before. Of those, two were nominated for the World fantasy Award. One of these won and was also nominated for the Theodore Sturgeon Award. "The Wireless Folly," which imagined the science fiction/fantasy/horror genre as a rambling building, constantly being added to, was written as an introduction to the volume. "Mother Grasshopper" also appeared for the first time in this volume.

One day, out of nowhere, my friend Chris Logan Edwards said he wanted to do a slim collection of my work. Slim, he said, to keep the price down so that people could buy it on impulse. I looked at my uncollected work and realized that the very best of it all happened on strange locales – a planet-sized grasshopper, a train passing through the borderlands of Hell, a tavern on an overbuilt medieval bridge, and my own neighborhood as seen from the afterlife. So I added the previously collected "The Edge of the World," to bring it to length, and had a collection whose stories chimed nicely. One critic said that they were all about death, and that's possible too.

Chris put together a beautiful volume with a particularly evocative cover by Lee Moyer. It was Tigereyes Press's first publication and not only was it nominated for the World Fantasy Award for Best Collection, but it earned Chris a place on the World Fantasy Award ballot for Special Award, Non-Professional, as well. Not bad for his first book.
PUCK ALESHIRE'S ABECEDARY
Pleasantville, NY: Dragon Press, 2000
Twenty-seven stories:
A is for Albany (to) Z is for Zothique, (plus) 120 is for Issues
MICHAEL SWANWICK: Sometime in my first two decades as a published writer, I acquired a facility for writing flash fiction. I wrote a series of twenty-seven stories, one for each letter of the alphabet, plus one marking the magazine's tenth anniversary, and sold them to The New York Review of Science Fiction for, as I recall, five dollars a pop. The money was nothing, but I'd written them for fun, so that didn't matter.

David Hartwell, editor and founder of NYRSF, suggested that his Dragon Press collect the stories as a chapbook. The editing and illustration was done by Kathryn Cramer. This was an old school publication – sturdy, handsome, and economical – as suited David and Kathryn's fannish streaks.

I don't have any anecdotes about this one, but it made me happy and that will have to suffice.
MOON DOGS
Ann A. Broomhead and Timothy P. Szczesuil, eds., Framingham, MA: NESFA Press, 2000.
Eight stories and seven articles:
Moon Dogs HN NN
The Death of the Magus: Two Myths (article)
Mickelrede by Michael Swanwick and Avram Davidson
Vergil Magus: King Without Country by Michael Swanwick and Avram Davidson
Jane Swanwick and the Search for Identity (article)
The Hagiography of Saint Dozois (article)
Ancestral Voices by Michael Swanwick and Gardner Dozois
The City of God by Michael Swanwick and Gardner Dozois
The Dead
They Fell Like Wheat (article)
A User's Guide to the Postmoderns (article)
Ships by Michael Swanwick and Jack Dann
In the Tradition… (article)
Growing Up in the Future (article)
Griffin's Egg
MICHAEL SWANWICK: Two stories were nominated for the Nebula Award and three, including "Moon Dogs" (which was one of two stories original to this collection) were nominated for the Hugo. The introduction was by Gardner Dozois.

The New England Science Fiction Society has a pleasant tradition of creating a book, usually a collection, each year for the guest of honor at Boskone, Boston's venerable science fiction convention. This presented a problem for me because I'd already contracted for what was by now my traditional collection-per-decade. Editors Ann Broomhead and Tim Szczesuil convinced me that by including non-fiction and some of the best of the collaborative fiction I'd written over the years, we could assemble a worthwhile book.

While there are some upbeat works in the collection (my posthumous collaboration – "Over my dead body," I can hear his spirit growl – with Avram Davidson, "Vergil Magus: King Without Country," is a hoot), the mood of the fiction is, overall, darker than usual for me. I have no idea why I didn't include "Dogfight," my collaboration with William Gibson, unless it's that I didn't want to look like I was trying to ride on his coattails.

During the convention, I was hobbling around on a cane, the result of a fall down the stairs and a broken toe, waving the book about and telling everybody that it was only one of three collections I had out that year.

"You know," Marianne Porter, my wife, said, "you've got the makings of good murder mystery here."

"How so?" I asked.

"Tomorrow morning, when you're found beaten to death with your own cane and the detective asks who at the convention would have a motive for killing you, every writer here is going to raise a hand."

Rick Berry, the artist guest of honor, created a beautiful illustration for the cover.
TALES OF OLD EARTH
San Francisco: Frog Ltd., 2000, 2002
Nineteen stories:
The Very Pulse of the Machine
The Dead
Scherzo with Tyrannosaur
Ancient Engines
North of Diddy-Wah-Diddy
The Mask
Mother Grasshopper
Riding the Giganotosaur
Wild Minds
The Raggle Taggle Gypsy-o
Microcosmic Dog
In Concert
Radiant Doors
Ice Age
Walking Out
The Changeling's Tale
Midnight Express
The Wisdom of Old Earth
Radio Waves
MICHAEL SWANWICK: Of these nineteen stories, fifteen were never collected before. The previously uncollected stories garnered three Nebula nominations, three Hugo nominations, two Sturgeon Award nominations, a World Fantasy Award nomination, an Asimov's Reader's Award, and two Hugo Awards. The introduction was by Bruce Sterling.

This collection was a collaboration between Frog, Ltd., an imprint of North Atlantic Books, and Tachyon Publications. It was my second major collection, gathering together all my best stories of the prior decade.

This book began my professional association with Jacob Weisman, who quickly became a good friend. Such good friends that, some years later, Marianne and I flew to San Francisco to attend Jacob's wedding to his wife Rina. So now we have two good friends (at least) at Tachyon.
CIGAR-BOX FAUST
San Francisco: Tachyon Publications, 2003.
Ten stories (or more, depending on how you count them):
Cigar-Box Faust
Writing in My Sleep
An Abecedary of the Imagination
Eight Takes on Kindred Themes
Picasso Deconstructed: Eleven Still-Lifes
Brief Essays
Archaic Planets
The Mask
Letters to the Editor
The Madness of Gordon Van Gelder
MICHAEL SWANWICK: Cigar-Box Faust gathers together pretty much all my flash fiction written to that point, save for the 26 short-shorts in Puck Aleshire's Abecedary. The title piece was a short drama written in one day for a cigar-box theater and a cast made up of a cigar cutter, a box of matches and, in the title role, the cigar itself.

Marianne came home from work that day and asked, "What's new?" I sat her down at the kitchen table, placed the cigar box between us, and said, "Watch.
MICHAEL SWANWICK'S FIELD GUIDE TO THE MESOZOIC MEGAFAUNA
San Francisco, Tachyon Publications, 2004.
Fourteen (or eighteen, depending on how you count them) stories:
flash fiction
The Thief of Time
A Matter of Size
Three Conversations
How the West Was Won II
The Scientific Method
Dueling Mosasaurs
Pocket Brontosaurs
Herbivores
Parallels
Wusses
Dinosaur Music
The Bird-Fishers
Proving Dr. Tom's Hypothesis
Five British Dinosaurs
Iguanodon anglicus
Yaverlandia bitholus
Altispinax dunkeri
Megalosaurus bucklandii
Craterosaurus pottonensis
MICHAEL SWANWICK: "I don't think you understand how many genera of dinosaurs there are," I replied when my editor at HarperCollins suggested that as a promotional device, I should write a brief story for every genus. But I was happy to write a goodly number, which were serialized on the Web to draw attention to my paleontology novel, Bones of the Earth.

Jacob Weisman, God bless him, liked the series, added "Five British Dinosaurs," which had appeared in Interzone, and published them all in chapbook form with lovely illustrations by Stephanie Pui-Mun Law.

I had great fun including some of my pals in the paleontologist community in the fictions. Ralph Chapman got to see his Pachycephalosaurus theories tested in the wild. Bob Walters was stranded in the Campanian Age when a hadrosaur crushed his time machine. Tom Holtz got eaten by a tyrannosaur. And Tess Kissinger went for a midnight ride with Ray Harryhausen in a pair of robot theropods.

Never let it be said that I don't know how to show my friends a good time.
THE PERIODIC TABLE OF SCIENCE FICTION
PS Publishing, 2005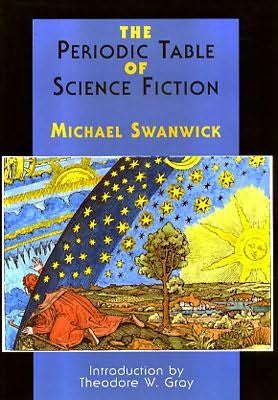 One hundred eighteen stories:
Hydrogen: The Hindenburg (to) Ununoctium: Now You See It Now You
Flash fiction, one story for every element in the Periodic Table. Introduction by Theodore Gray.
MICHAEL SWANWICK: For a couple of years in the early part of this century, I was publishing, in addition to my usual fiction, two stories a week online. For Eileen Gunn's ezine The Infinite Matrix, I produced a series of stories, The Sleep of Reason, based on Goya's Los Caprichos etchings. That was 80 stories for Eileen and 118 for Ellen. Writers used to turn pale and hold up crucifixes when I entered the room.

Peter Crowther, the founder of PS Publishing, liked my series based on the elements and reprinted it in a beautiful book which very quickly went out of print.

The Sleep of Reason hasn't appeared in book form yet. If anybody is interested, I can think of the perfect illustrator for it – and his work is all in the public domain.
THE DOG SAID BOW-WOW
Tachyon Publications, 2007
Sixteen stories:
'Hello,' Said the Stick
A Great Day for Brontosaurs
A Small Room in Koboldtown
An Episode of Stardust
Dirty Little War
Girls and Boys, Come Out to Play
Legions of Time
Slow Life
The Bordello in Faerie
The Dog Said Bow-Wow
The Last Geek
The Little Cat Laughed to See Such Sport
The Skysailor's Tale
Tin Marsh
Triceratops Summer
Urdumheim
MICHAEL SWANWICK: One story was nominated for the Nebula Award and four for the Hugo Award. Of those four, three won. Introduction by Terry Bisson.

My third decade collection arrived three years early. It was named after "The Dog Said Bow-Wow," the first Darger & Surplus story and easily one of the most popular stories I ever wrote. At the time the collection came out, there were only three stories in the series, all of which were included. Someday there will be a full collection's worth. But that day, alas, is not here yet.
THE BEST OF MICHAEL SWANWICK
(Subterranean Press), 2008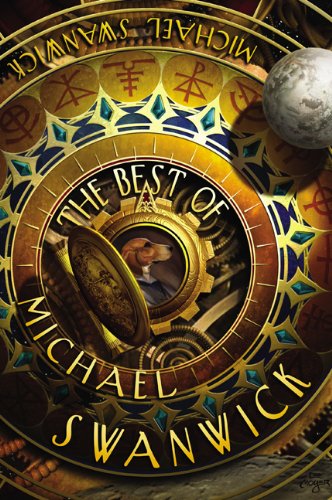 The Feast of St. Janis
Ginungagap
Trojan Horse
A Midwinter's Tale
The Edge of the World
Griffin's Egg
The Changeling's Tale
North of Diddy-Wah-Diddy
Radio Waves
The Dead
Mother Grasshopper
Radiant Doors
The Very Pulse of the Machine
Scherzo with Tyrannosaur
The Raggle Taggle Gypsy-O
The Dog Said Bow-Wow
Slow Life
Legions in Time
Triceratops Summer
From Babel's Fall'n Glory We Fled…
MICHAEL SWANWICK: Subterranean Press likes to put out career-summing "best of" volumes dedicated to people like Joe Haldeman, Lucius Shepard, Nancy Kress, Larry Niven… Pretty heady company to be numbered among. So when Bill Schafer asked me to join them, what else could I do but blush and nod?

This collection was not only beautifully made but large – so much so that it was a bit of a relief to discover that I didn't have to include any of my weaker stories to fill it up.

Bill asked if I had any ideas for the cover artist should be and I immediately suggested Lee Moyer, who had done such a bright and witty job on A Geography of Imaginary Lands. When I saw the cover (which includes a half-hidden portrait of my hirsute self), I was glad I did.

I look forward to the day when I have enough new fiction to assemble The Second Best of Michael Swanwick.